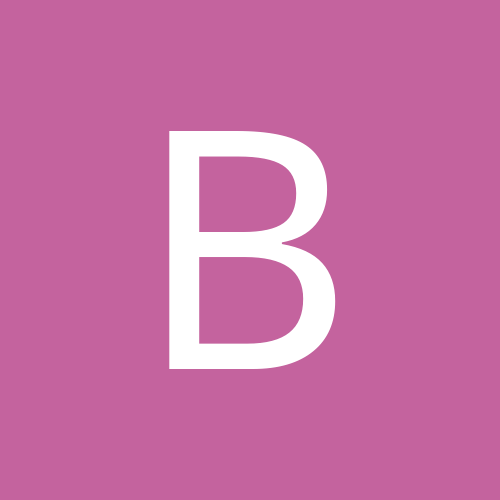 Content Count

179

Joined

Last visited
Everything posted by Bean00
See if you can reduce the VGA output resolution to ~1280x720 instead of 1280x1024. Then it will display as 720p. Alot of DVRs don't auto-detect or don't do it properly anyway. So you have to do it manually.

Sorry, just realized you already removed the "good" drive. I can't help you then. Sorry.

Well, this is an embedded DVR - the unit shouldnt need the failed HDD. The OS isn't on the drive. Remove the bad HDD and try to boot. Should still work I think... if not call GE tech support. They might have a way to do it. DO NOT remove and then attempt to reinstall the HDD. From what I recall these DVRs will automatically reformat the HDD when you put it back in. Dirk_D there is no raid option on the GE SymSafe DVRs.

Seriously. Golden Eye was awesome. Anyone hear about the fan-made remake of Duke Nukem 3D thats coming? Best of all, it's going to be free . http://www.dukenukemreloaded.com/

Some... we're doing integration with our IP cameras into the VMS software(You'd know it as PSS) as we don't use the same factory for IP cameras. Apparently we're doing a complete overhaul of the Mace VMS software when we do. I should have a copy of the new software next week. I can shoot you a copy after I take a look at it. Working on a whole new mobile app suite for the entire line(not just the live viewing apps currently available.). Would love some suggestions on what you'd want to see in a mobile app btw. Integrated it into the MACE CS(formally CSSS) alarm central station for Video Verification. Thats all I know of at the moment. Do the others you've seen do 1080p on the HDMI output? Ours has it, but the other two companies I've seen max at 720p.

It can do 7FPS @ D1/CH - Upto 30FPS @ D1 on channels 1 & 9(Channel 9 only if a 16 Channel unit obviously.). http://www.macepro.com/media/pdf/spec_sheets/MVR-SQ80_specs.pdf

Bean00 replied to Adam Daley's topic in Geovision

Thats really funny since I'm 99% sure that Axis doesn't even make that particular camera.

Most of them do now, even the budget stuff usually does. I'd be hard pressed to find a newer unit that doesn't.

should just be the latest firmware for the camera. f20100924NS is the tested firmware according to the Onvif website. Contact DVTEL and ask for that firmware.

again, the specs on the so-called 540TVL camera were definitely "exagerated". Based on the effective pixels, it was a 330TVL-450TVL camera.

The Avermedia can do 240 @ D1 Resolution. Technically the IP recording isn't tied down to specific framerate/resolution... more guess work there. That 240FPS could be divided however you choose across the 16 channels. Yes the Intellicam can do D1 @ 30FPS across all channels.

Yeah if you aren't walked through setting one of those up it's a nightmare. I went through a in depth technical training on IOImage a couple of years ago. But like you said, once you get it done, IOImage has some of the best analytics I've seen. The autotracking is an impressive one for sure.

the alarm contacts are just basic NO/NC triggers. Works great for tying into an alarm system though.

Keep in mind those X-Vision cameras are not actually 5MP cameras. They use a 5MP sensor but are locked down to 1080p(2MP).

Ok, my input: a) Always dedicate the recording device to do nothing but recording. whether standalone or PC based, don't try to multi purpose it. b) The GV-600 card will not provide a worthwhile solution for 8CH(30FPS @ CIF res global? 8FPS @ D1? Thats 1FPS per camera at D1 res). If cost is an issue, go with an embedded standalone DVR. buying another PC would be more money.

CBR will give you a consistant quality level. VBR will be based on the complexity of the video. VBR can be lower quality, it can also be higher.

No not at all. Higher framerate is always nice, just not as important as resolution generally. Two independant concepts. Resolution: Size of the image Framerate: Number of images taken So if you can get higher framerate at D1, and you want "smoother" video, then by all means crank it up. The issue is that most DVRs can't handle D1 at higher frame rates. And your bitrate is excellent. No need to touch that.

Not a simple question. But I'll give you both a very dumbed down answer, and links for you to read up if your interested in the reality of it. Really Dumded Down Answer: PAL is the video format for Europe(and a very good portion of the rest of the world), NTSC is the video format for the US. Real Answer: PAL: http://en.wikipedia.org/wiki/PAL NTSC: http://en.wikipedia.org/wiki/NTSC

720p(or ~1MP) = ~3x file size of D1 1.3MP = ~4X file size of D1 1080p(or ~2MP) = ~6x file size of D1 This is assuming same compression level. If you compress it to D1 their is no point in going IP really. It's not going to give you a better image. D1 is D1. As Soundy said, you can reduce framerate to reduce storage. But your better off increasing the storage. Storage is cheap these days anyway.

Rory, thats why he's ripping it all out . wireguys, Why not just use IP over UTP converters and save having to rewire? http://www.vigitron.com/categoryproductdetails.aspx?idcategory=12# http://www.nitek.net/products/networkextenders/VR124UTP.htm We have one coming too but it won't be ready for a few months yet.

Yep, bottom one is better. Thats no 540TVL camera, it's a 330-450TVL camera. Effective pixels on a 540TVL camera would be ~ NTSC: 768(H) x 494(V); PAL: 752(H) x 582(V) To qualify - the PICTURE might not be any better. Probably the same. The varifocal lens is nice because you can fine tune your field of view.

If you mean the GE Security Digia II DVR: http://www.gesecurity.com/portal/site/GESecurity/menuitem.11620ebca5cc0a06574efe10140041ca/?vgnextoid=0d9dcabfcd6a9110VgnVCM100000592d7003RCRD

It's a little hard to explain... Essentially four things control resolution: Camera TVL(this is hard to figure though, since most Manufacturers misrepresent this number.) Recording resolution(i.e. CIF, 2CIF, D1. This is the number of pixels in the image.) Compression type(algorithm used to compress the raw data) Bitrate(how much data is used to create the image.) Most manufacturers simply refer to Bitrate as Quality, and give only a couple preset options. My DVRs call it Bitrate and allow you to custom configure per channel. So do a handful of others. All four of these options are very important in determining overall video quality.

from a sales standpoint... returns on Trendnet were rare. Customers always seemed happy with them. Biggest issue I ran into was warranty. I believe they offer a shorter warranty period than Linksys & Netgear

Found the info on the Panasonic's. http:// http://panasonic.net/pss/security/products/hd/dnc00.html Of course, thats the global site - not the US site. I was told they are coming though... might be worth bugging your rep on. Specs read funny... I'm not really certain about what these cameras can do. Thats nothing new though, Panasonic always has to do things a little differently lol. 18x optical zoom with 12x digital zoom enabling 216x zoom. 36x extra optical zoom under VGA resolution with 12x digital zoom enabling 432x zoom. Guess it's using cropping to expand the "zoom" in VGA mode? So it's only ever showing you the VGA image? The math adds up that way... certainly the zoom module doesn't change.