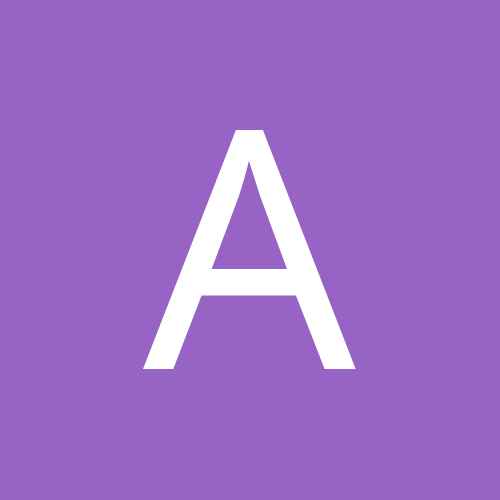 Content Count

98

Joined

Last visited
Everything posted by andyh747
Sorry to hijack the thread but I have a related issue with crimp BNC connectors. I've experimented with crimping these but always have difficulty achieving a good result especially around the outer sheath. If I wiggle the coax when complete, the coax outer insulation sheath often comes out from under the crimp collar (I've been using three part connectors). Any tips on getting a good crimp on RG59? Alternatively anyone got any recommended suppliers for compression connectors as these appear more robust.

Thanks Tom. We're in the middle of a new build so haven't a large TV yet as we're living on site with most of our stuff in storage! However I do have a small LCD TV with VGA input. I've been looking at the specs on the Avermedia monitors vs the specs on the Iiyama monitor I have and I honestly can't see why the quality would be so much different between the two. The screen size is the same, the resolution is the same and the type of display is the same. The specs for my monitor are here: http://www.iiyama.com/gb_en/products/prolite-e1706s-1/#specification I could understand a slight reduction in quality but the output on my LCD is very poor in comparison to the output from the BNC SPOT connection on the TV. Doesn't make sense. Have you any recommendations for suitable monitors which ideally would have BNC outputs as well as VGA inputs? What are the Avermedia Touch range of monitors like? Any other touch monitors compatible with the Nano? Thanks for your help.

I'm not sure what you mean by the picture doesn't fit. The output seems to fit the screen ok but the quality is poor. Is this what you mean by not fitting? Using a KVM is one option but would then involve a VGA to CAT5 converter. I've seen some monitors which have VGA input and a BNC output which could then be fed to the TV via CAT5 and baluns. Can you confirm that the quality of the VGA output should be as good as what I'm getting from the SPOT monitor output?

Of course! Seems obvious now you've suggested it. That will work perfectly. As a side issue, I've raised a query about my Averdigi Nano DVR here: http://www.cctvforum.com/viewtopic.php?f=3&t=25236 I know you're the Avermedia expert so hopefully you can advise. Many Thanks, Andy

I'm trying to run two analogue cameras down a single CAT5e cable. However the cameras are about 5m apart so the question is how to successfully split the single CAT5e to serve both cameras? Is there a junction box needed for this or is there another way? I am powering the cameras locally so am not running power through the CAT5e. Any help appreciated.

Well I said I'd report back so here's my initial impressions of the EH1008-4: Good Points Small form factor and very light. When package arrived thought it was empty it was so light. Completely silent in operation. Good user GUI although improvements could be made to the graphics. Lots of functionality with plenty of options which I haven't explored fully yet. Good iPhone app which has just been updated to give split screen viewing as well as single camera view. However you can't playback recorded footage. Bad Points Network access on PC or MAC is awful. There is a plugin for IE but it won't work on any of my systems. It tries to install but fails and IE crashes. Might be due to issues with Windows 7 support. It won't work at all on a MAC. The included software is better but means you don't have native access if on another PC. Unit runs quite warm. Not a problem and is probably a consequence of no fan. I only have four cameras connected at present. I'll be interested to see temperatures when all eight cameras connected. Type of HDD may also effect temperature. Startup time is quite long but as the unit is normally left on then this isn't a real issue! It is only early days yet and I haven't even explored the manual yet! That shows how easy it is to setup. Overall I'm pleased with it so far. I also think it's well priced especially if you get trade pricing.

Hi All, Just received my new Averdigi Nano DVR. Have installed the HDD but having problems configuring the unit as I don't have a monitor or VGA cable! I was hoping the unit could be setup and configured via the LAN connection but all attempts at access have failed so far. I think this may be due to the LAN connection being disabled by default. Is it possible to do the initial setup via the LAN connection or must a monitor with VGA connection be attached? I've also tried connecting through the SPOT Monitor BNC connections but again I don't think these allow any setup, just viewing of the cameras. I'm trying to locate a monitor with VGA input but any suggestions in the meantime much appreciated.

Thanks. It's all sorted now but I was slightly concerned that to do complete the setup the HDD would have to be removed whereas it's very easy to format from the settings menu. The only other issue is whether you can view the DVR from a MAC? Have searched the MAC APP store but can find nothing from Avermedia for the MAC. The iPhone app works well but it would be nice to have native support within a browser which doesn't utilise activex.

you cant format it on the dvr ......... it has to be taken out again. when you first start up the nano it goes into HD set up .......... with you not having a monitor connected you have missed the set up and you will only see the HD set up screen again if you install a new HD or one that has not been in the dvr before. Not sure why you stated this as its not correct. I sourced a monitor this afternoon and connected it all up again. All you have to do to format is select setup, system and then click Add underneath hard drive selection. That allows you to format the drive without problem. System all up and running now without removing the HDD.

According to the manual you can format the HDD at any time through the settings menu. Regardless formatting outside the box is not an issue.

Thanks. That's not a problem. Can easily reformat. Just need to get to the setup. I'll look for a monitor.

I have been a little slow in ordering but the new unit arrives this Wed so I'll post back when I've had a play!

I am looking to utilise an old PC as a temporary measure for recording footage from 6 analogue cameras. The spec of the PC is below and would appreciate anyone recommending any DVR cards which might do what I need. As mentioned this is an interim measure until I am able to purchase a suitable DVR and have all cameras installed. The spec of the old PC is below: AMD Athlon XP2600 333mhz 512 L2 Cache Barton Processor Asus A7N8X-E Deluxe SKTA NVNorce2ST ATX 8xAGP Giga LAN, SATA, Firewire, 6 channel Audio, USB2 Dual chan. DDR +WiFi slot (up to DDR400) Motherboard 500GB SATA HDD RAM: 512mb but upgradeable to 3GB Realise this is an old PC and may not be up to it at all but if anyone can advise would be much appreciated.

Thanks for all the detailed replies guys. Much appreciated. I think it's flogging a dead horse trying to get the old one to work! It's a common question but I'm now asking myself whether to go for a PC system or standalone. I'm tempted by standalone as it's designed specifically for that purpose and should work out of the box. However I am quite good with PCs and have built a couple in my time. I also want to be able to use both analogue and IP cameras on one recording system. I've been recommended the Averdigi Nano series which is a hybrid standalone. The other advantage of standalone is form factor allowing them to be rack mounted either on the rack rails or on a rack shelf. However I guess this is also possible with PC systems now? The Averdigi Nano also appears to be very quiet as it's fan free I believe. I know there's no easy answers but would appreciate any advice on pros and cons for my situation. Here's what I have so far: CNB Dome Cameras with IR x 6 Vivotek IP7138 indoor camera x 1 Need to plan for an additional 2 indoor cameras and 2 outdoor cameras. I want a system which can have the feed output to a touch monitor in one of the bedrooms to make access easy without needing keyboard or mouse. Standing by for lots of advice

Thanks for the reply. I suspect this PC is going to struggle so I may just take the plunge and buy a dedicated DVR. Probably more hassle trying to get this old beast up and running.

Hi all, I'm after some advice on a CCTV system for a domestic environment. I'm located in the UK and am in the countryside with no ambient light from street lights at night. I do have external lights which, at present, are on dusk till dawn sensors. I'm looking for good quality external dome cameras as they look better, in my opinion, than bullet cameras on the exterior of a domestic house. I need to cover all sides of the property so am initially looking at 5 cameras with the possibility of expansion to 8. Ideally I would prefer cameras with inbuilt IR in case the exterior lights are off. I have so far looked at Concept Pro (UK name for CNB), X-Vision Professional, and various unbranded offerings. The Concept Pro look good but they don't do a dome with inbuilt IR. Their IR offerings look good but the cable connections are not within the housing or bracket and therefore won't look as neat as a dome style. I would really appreciate some advice on quality cameras and recommendations. Many thanks in advance.

I'm keeping the budget to around £200 per camera and have ordered the a Concept Pro with IR to see how it performs. I'm in the US on business next week in the Long Beach area of LA. I notice the CNB headquarters are there. Can you buy direct from them? Any recommended US retailers for the CNB cameras?

I'm going to go for the 8 channel Nano hybrid so will let you know what it's like after a few weeks use. I'm often in the US (UK resident but travel there on business). Anyone know of retailers for this DVR in the US?

I have no knowledge of Avermedia products but hearing they are not user friendly is not a good start. Another unit I've been looking at is this one: http://videor.com/item/96/43/0/9101/dlr4081.5tbd.html Anyone any knowledge/experience of eneo DVRs?

Thanks for that. I hadn't realised that model was a Concept Pro (CNB) camera on the Videcon website as it wasn't listed as Concept Pro but is on the datasheet. Looks like the perfect solution for me. Any other camera recommendations much appreciated or feedback from users of the CNB range.