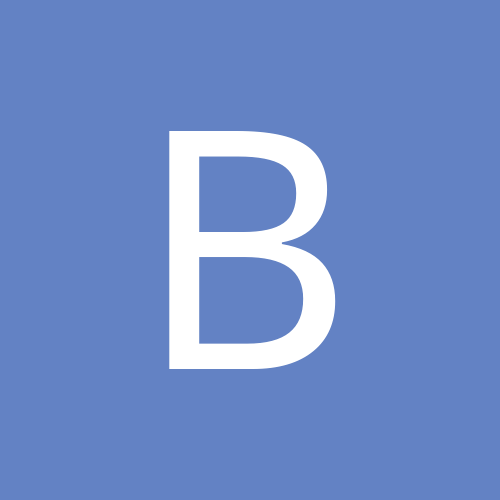 Content Count

20

Joined

Last visited
Everything posted by Boogieman
Sure, if you are in the middle of nowhere with noone else around that uses wifi. Otherwise you might not even have those 48Mbps. Or you might have them today, but not tomorrow. I thought that is what channels are for on a router? This seems like it would be a big issue for personal Wifi networks in the city if this were the case, nobody would ever get steady networks speeds. Everytime I speedtest over Wifi it is the same so I know my Wifi is always a stable speed and I have never had an issue with that. Thanks for your advice. You dont understand...your phone or pc doesnt care about packet loss...with a camera your image will be crap...you need a 100 percent stable connection 100 percent of the time.it will fail...and when you need it most...a microwave will interfere...it will not work...move on...dont be lazy..run cable...if that is too difficult for you hire someone...wifi is simply NOT an option..my gut tells me you will try anyway..good luck,,

The wifi spectrum is not yours, unless you live in the middle of nowhere with no neighbours. You might have the needed bandwidth today, but not tomorrow. 8 cameras @ 6Mbps each is 48Mbps on a 300Mbps router serving no computers or anything else wireless. I do not understand how my bandwidth is going to fluctuate from day to day, can you elaborate? Keep arguing...you are here for advice...you are being told it wont work because folks who know are telling you...wifi is a terrible choice for cameras..you WILL lose signal and drop frames...dont care what wifi access points you use...but I guess you know better...so why ask?

Having the NVR connected to a 4G connection that only serves for inspecting my home when I'm not around (ex. traveling) would be the best solution. Although it would be much better using the already available NAS for extra storage but the NAS is connected to the home network, putting me again at risk. Thank you all That is the dumbest solution...You know that you can segment your network right? You dont need to cutoff your system from the internet...or you can use vpn...Please dont listen to some of the uneducated posts here....anyone can sign up and post, most have no clue..

You need to stream direct from the DVR to the pc...via the NETWORK...cheap DVR's will not stream properly...they will choke.

So rerun with ethernet..its 2016...not 1980...

Why dont you simply buy an ip camera...this is the best solution.. Or you can get a quality DVR that support steaming and use it as an encoder to stream to your blue iris pc.

make sure its solid copper wire, no CCA/copper clad aluminum junk...be vigilant about that since some unscrupulous installers will try and use it to save a few dollars.

Oh god...stop with the spam. Easterncctv must sell real crap if they keep paying folks like you to post this spam in the form of a question.

There is no good wireless. Run ethernet. USE POE.

YES!!!!!! you cannot just match up ends!!! They are twisted SPECIFICALLY to prevent interference. That is why its not working. You need to stop "installing" systems until you learn to do it properly. Im sure there are many other mistakes you are making. I sure hope this system is not critical.

Did you wire them with the 568 standard? You install cameras and dont have a tester? Come on!!! Finally, stop buying subpar gear!!! Didnt you learn your lesson from your Balun fisasco?

You dont like the attitude of folks giving you FREE advice? Awwww. Poor baby.....its obvious from your original and subsequent posts that you refuse to do any of your own research or work....hire a professional to install a system for you...it is obvious that you are incompetent.

Proving my point again. Dont be lazy. READ. Is the search bar on this forum or your google broken?

No, you did ZERO research if thats what you ended up with. Come on, this is a joke thread.

Buy first, ask questions and do research later. Smart.

They have completely different uses. This is basic info..read the product descriptions...one cannot replace the other. It was a rhetorical-sort of question for the sake of conversation. My point being that you can pay hundreds for CCTV cams, and hundreds for DVRs, and they need a steady feed of power. But TrailCams -assuming a properly made one- can cost around $200 and up, are wonderfully efficient (up to a year on 12 AA Lith.), can record video and sound at a quality that can be better than a full hardwired CCTV system, and only run when triggered. It just bugs me is all, why someone can't sell a system that works like a TrailCam. TrailCams would be ideal for building/vehicle/field surveillance were it not for their all-contained physical shape.. you know, have a CCTV system that is essentially a TrailCam except the parts (cams, mics, PIR, power, IR, etc.) could be separate and connected via ports in the main DVR unit. Why do you say trailcams can record at better quality than ip cameras? No camera on batteries can last a year in a location where there is traffic. You can trigger most cameras that have an alarm in with a pir sensor. Relying on PIR to record can be problematic, no pretrigger frames, not recording of events out of PIR range. You are simply looking for a way to use PIR with cameras. There are many of methods to do this.

STOP SPAMMING THE FORUM...

That's quite a problem you have there...hire someone to set it up for you. If you want others to help you, you really need to provide much more detail. Based on your question, I doubt you can achieve this on your own. thanks i got some solution to do this thanks for your ideas based on your other posts, doesnt seem like you did...

They have completely different uses. This is basic info..read the product descriptions...one cannot replace the other.

That's quite a problem you have there...hire someone to set it up for you. If you want others to help you, you really need to provide much more detail. Based on your question, I doubt you can achieve this on your own.

anjiacctv.com sells JUNK. How do I know? They spam forums to sell their product.

Wow, an amateur that doenst like being called out on it. Why are you getting so upset? I asked valid questions...you go ahead and insult me directly. What a fool. Its generally novices like you who go crazy when presented with logical questions. You have no response...You are full of rage. You are an angry child. PLEASE seek professional therapy.

I am NOT telling you! of course it reads and writes and formats and partitions. That's why I posted this, because everybody says what you just said. Yes it works to my surprise too! Just because it works some of the time doesnt mean you wont have issues. Also, have you tested to see how the drive will react when power is disconnected? Are the video files corrupted? Did you try playing the files on a pc or second NVR. Also, if you are paranoid about power being cutoff, the what are you going to do if the simply wear a mask...

Stop trying to make a screw the customer...there should always be local storage.... if they want paid cloud storage they dont need you...nestcam and other services are available. If you need to ask how to implement it on a forum, then you cannot do it successfully.