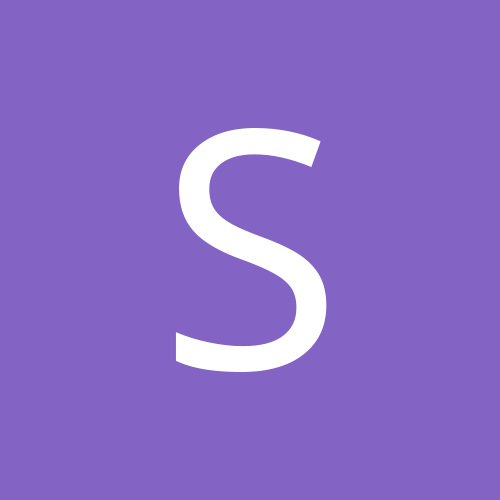 Content Count

51

Joined

Last visited
Community Reputation
0
Neutral
1. I never said sorry for anything other than breaking a forum rule and thats the reason I took the sig off...not for you so keep your thanks and your acceptance of my "apology". 2. I never said usb dvr. ill ask you to show me where I said that, but like soundy I doubt you're going to be able to come up with a legit quote. The only thing I said relating to usb was usb adapter and usb port. whats really funny is up until your post at the top of page 5 noone else has said anything about a usb dvr either, so I'm left wondering....where the hell did you pull that gem from? You may want to read what's posted and stop worring about what I'm doing lol. 3. you keep saying you give ppl free help like i charged the guy lol. I don't care what you do. You came in here blasting me and my website and saying Im full of bs when its obvious that, if you did read the posts, you didn't read them carefully enough. Otherwise you'd know I never said the hardware didn't matter 4. you should never say "these are your words and not mine" when you have neither the wording nor the idea expressed with them correct. 5. never have I said hardware didnt matter. this is where you must have got lost. Maybe you should read everything written instead of taking things out of context (you and soundy have a lot in common) As a matter of fact do you know who else accused me of saying that? soundy. Seems sound gets his "ammunition" from ak, and you get yours from him. I suggust both of you get better sources. what i literally said was: and the second paragraph in the following quote is where soundy started with the whole "youre saying hardware doesn't matter" and (ignore the first sentance this is my way of kindly telling soundy hes putting words in my mouth that were never said....much like you just did with the usb dvr bs) and finally my attempting to explain to soundy how I never said anythign about the hardware not mattering (as i explained then this ins't exactly how its done just more of an example to show soundy what I was talking about0 Since you got lost with all that (or didnt bother to read it since you, much ilke soundy, decided to make crap up and say I said it) lets explain it differently for you, have you ever heard of an fpga in those 2 years of electronics you had? An fpga is a field programable gate array and is only 1 of the many circuits inside of almost any piece of electronics that can be programmed/reprogrammed to do whatever you want it to do (and for which the fpga is capable). I bet I can turn soundys 470 tvl camera into a camera that wont push out more than 300 with little more than a little bit of verilog coding. Much like I said before...the 300 tvl wouldn't be due to any hardware limitation as the hardware is capable of far more than 300tvl.....itd be due to software. Post away. I'md done here anyway. Neitherr you or soundy knew anything of a carrier wave yet you're in a business where I would expect that'd be something very important for you to understand, neither ak nor soundy knew a spec anni was an oscilloscope hell soundy wanted to prove me wrong so bad he invented a special spec anni that wasn't an oscilloscope, he thought tvl came from the image sensor and that the only thing on the analog signal coming from your cameras was the format. And since your very first post in this thread you've done nothing but berate my merchandise and my website, even though you have absolutely no room to talk about anyones website, like it showed anything in relation to my knowledge.......I wonder how that works out? I have all the ebay gear and you have all that frontline pro crap.....my technical knowledge should be limited at best (by your measurements equating my merchandise with my skill) yet everything that's been said in this paragraph actually happnened...and I was the one to set the record straight. What's really funny is you told me to become a respected member but you sure aren't a respected member in my book....not one that deserves that respect anyway.

Lol attack who? cctv down under? why he was trying to help. Sorta like you said you were yet you have yet to help. There have been a total of 3 or 4 people that have tried to help in this thread, you soundy and ak are not included in that number as you've contributed nothing worth much to the OP. Oddly enough if you take the time to go back and read thru the thread instead of picking out bits and pieces, I haven't attacked anyone that didn't attack me first. Remember what I told you the first time you slung an insult my way? I'm a marine you're not going to offend me...you'll only get return fire. On another note - if you sell nothing on your site why are there links for sales and billing? I have an ebay looking site? My site looks nothing like ebay. Know what? It doesn't matter what you think of my site. At least my site doesn't look like it was thrown together by a 13 year old learning html. Before you want to toss insults at other peoples sites...ensure yours doesn't look like you threw up on the screen and just decided to leave it because it was better than what you could come up with. Have fun with your site....its looking soooo good. You keep talking about my merchandise like it makes you, ak or soundy look technically proficient. Again I'll say my merchandise means nohtimg more than what I can get ahold of. Thats not even what I'm going to sell 5 years from now, just the first thing I could ahold of. If my website showed how technically inept I was why was I the one to correct soundy's thoughts that tvl came from an image sensor? Why was it me that corrected the though both ak and soundy had regarding spec anni's not being oscilloscopes? Why was it me that corrected him when he thought the only thing present in the analog signal coming from your camara was the ntsc/pal format? Why was it me that had to break down what a carrier wave was to a bunch of cctv "gurus"? Hell you yourself actually had the nerve to say I was "blinding with bs" when I broke that down to soundy to show him how there was more on that analog signal than ntsc format and you claim to have taken 2 years of your liife to study electronics....horrible, waisted 2 years is more like it! But your right, my website tells you I suck at being an electronics technician (lol)....wonder what it makes you when I've corrected you guys? Can you guess what you're website tells me? Nothing other than your skill with html...which is the only thing you can learn about me from my site. If I take the cameras down and start throwing up slides for 5 year olds does that make me less of an electronics technician? Your logic is flawed. I think you have nothing worth argueing so you decide to pull my website into the conversation like it has any weight. I could sell lipstick and still be more technically proficient than you 3 have shown yourselves to be in this thread so far. Hell even my wife knows that a spec anni is an oscope yet 3 grown men who have a combined total of over 50 years working with these tools didn't know that. Laughable. Again ill tell you im not in cctv. Im an electronics technician. Heres a link to a basic job description http://www.schoolsintheusa.com/careerprofiles_details.cfm?CarID=1590 the only issue i find with that description is the third paragraph and its descriptions of what electronics technicians can do. it's a bit misleading because it makes it seem as if a comp tech is an electronics technician. the only way a comp tech is an electronics tech is if he's taken a soldering iron to a circuit board in order to repair the pc, otherwise he's just a comp tech but its still a pretty good job description. Here's the real issue: First noone said anything about a usb dvr, both you and soundy need to read thru the thread again. I said usb ADAPTER. Nothing more than an electronic circuit (hey sound...consisting of nothing but filters and drivers) to turn your analog signal into a format your usb port in your computer would accept. Second it wasn't a way to test anything, it was a way to get the resolution of the image. The guy asked for resolution OR tvl. I added in your could use the known resolution to get an inaccurate measurement of tvl after I thought about the fact that he may not have/know how to use an oscilloscope...which was my only real method. The other was an inaccurate after thought that you all have been harping on like I said it was the coming of christ. Like I told soundy, either use the suggestion or dont i dont care its inaccurate either way. You guys dance around semantics, but expect others to be semantically accurate, and add things into the conversation that were never there better than anyone I've ever met in my life. Again, the biggest drawback to my suggestion, besides it being inaccurate, is your usb PORT on your computer as it is the ONLY LIMITING factor in my suggestion. Nothing is changed apart from an analog signal being converted digitally Sorry the second your analog signal hits a digital format it is no longer ntsc or pal format, it is a digital format. The adapter is what converts this analog signal into digital. Noone said anything about the adapter knowing anything about tvl...again its digital so tvl (which is analog) means nothing. 1's and 0's, off or on...that's all the analog signal is after it leaves the adapter. Sorta the same as how it starts with the image sensor storing voltage in capacitors (not having tvl capabilities soundy...pixel resolution...yeah...tvl...not so much)

I dance around? Lol you've gone from tvl to vlc to image sensors to oscilloscopes thru this whole thread and when one of your claims to discredit me blows up in your face you try to find something else or fall back to one you've already shown worked once. Dancing around the subject would be me outright ignoring it. Sorta like how you've done in every instance I've proven your statements false or when I've asked you a question. How about quoting the entire idea expressed? You like to take things out of the context they're said in to make it sound like you're correct. pfft danced. I know what you're arguing and have acknowledged it more than once. If you ask me its you that are dancing and you that have shown insufficient knowledge to back any of your claims. I'm supposed to believe you know what you're talking about when you didn't even know that a spec anni is an oscilloscope? I'm supposed to believe you know what you're talking about when you say the tvl of a camara comes from an image sensor? You tried to explain ntsc broadcast signal to me like it was a SIGNAL...ntsc is a format present in the signal, learn what a carrier wave is and everything that may be transmitted it on it before you try to explain signal to me. I'm supposed to believe you know what you're talking about for what? You've given me no reason to think you possess anything more than a passing familiarity with what we've been talking about thru the course of this thread. You may have dazzled these guys, ak didn't know a spec anni was an oscope either so your bs may have had him shaking his head up and down in agreeance, but I don't fool so easily. I'm supposed to play your game and prove a suggestion, I made as an after thought, correct when you've done nothing but try to prove me wrong with complete and utter bs? Why? Either use the suggestion or don't. I don't care, its inaccurate anyway. Also you don't know enough about me to call me a blowhard. that would suggest I'm either boasting or bragging. If you think I'm boasting with what I've said here then once again you're wrong I could come up with better crap to "impress" you with than telling you what my job title is or telling your friend about my education when he informs me of his 2 years of electronics schooling in an attempt to show me just how much he knows, and then continued with belittling me for the merchandise I sold like it proved anything in regards to technical knowledge. So yeah I guess depending on how you look at it you could say I did measure myself...but I used the ruler you handed me because you wanted to know how big I was. Hell, you were lost when I was just explaining that an spec anni is an oscilloscope and I wasn't even trying to confuse you. Why would I want to impress you? Up until I posted from the wiki you swore you were right, even to the point of trying to prove it. There's no reason for me to try and impress you by boasting, you've yet to show me your worth impressing. I'm also not bragging...that implies exageration and that's not here either. I can call you a blowhard though. Hell you've been pushing your incorrect information hard as hell like it was 100% accurate and bullet proof.

Noone else besides you him and cirrvine ahs disagreed with me either so does that mean the other 3 that have posted automatically agree with me? You're logic is flawed....as usual. First there is no these claims. There was one claim that youv'e been argueing. Quit making **** up. Secondly you've already shown how it proved my "theory" (as you say). You're the one that said you were incompetent when you said "I can't get it to work" after informing me (and everyone else here) that your 470 tvl camera spit out a resolution of 720*480. No need to continue further until you can show me a camera with say 320 tvl that spits out a resolution of 720*480. I'm not the one worried about an after thought, or proving it right. The only reason I continue posting in response to you is because, as of this post, every arguement you've presented has been incorrect and I felt the need to correct you way of thinking because you were so confident in the way you answered that it made me think you actually believed the bs that was coming out of your mouth. There's nothing to weasel out of.

LOL The whole group? Since when does just you, or givingin the benifit of the doubt the 3 of you, constitute everyone? 5 or 6 have posted, that I can count so at best your whole group is little more than half. I'm the one blowing smoke? lol Everything you've used to try and prove me wrong has been proven incorrect so you revert back to argueing against my after thought. Here's an idea, since you've got such a big issue with the after thought. Forget it was ever said. Funny how with that thought removed from the thread EVERYTHING else I've said, from measuring it with an oscope to how the cameras/adapters/oscilloscopes function and what they are is 100% accurate yet you've still gotten away with saying things that are not correct no matter how you look at them. "tvl capabilities of an image sensor" What image sensor has tvl capabilities? "a spec anni isn't an oscilloscope" what spec anni isn't an oscope "demaximise the window" where's this demaximize function located...all I see is minimize, restore down and close "alt f4 closes a program" nope it closes a window Now once again you've resorted to saying I'm blowing smoke out of my ass, showing just how much you actually do know about electronics, yet through this entire conversation the only one blowing any kind of smoke was you. You're right though...I should just take a loss because you obviously know SOOOO much about electronics and you can't get it to work so it must not. Once again I'll pose the challange I did earlier in this thread - try it with a camera with less tvl. If it doesn't display something other than a 720*480 resolution I'll eat my words. Again, dont confuse yourself, pixel resolution and tvl are not the same...they are only relative. What I find funny is that you've been harping on my words being incorrect and argueing against them for 4 pages now yet when I point something out that you've incorrectly said you either change it up or you ignore it like it was never said. Either way it matters little to me. You're attempts to prove me wrong, and my attempts to ensure you were knowledgable about what you were argueing, is what pulled this thread so far. Had you not said anything the first post would have been my last, but then you had to argue an after thought like I said it was the word of god and then continued to argue, unsuccessfully, anything else I said in response to your arguements because you invisioned yourself as being more knowledgeable.

I know that a collie is a dog, but a dog isn't necessarily a collie. Is this you argreeing with me or are you just playing more word games? Lets tie this in with this statement you made a bit further back in the thread: Ok now that we have them both here...neither you nor anyone else has ever used a spectrum analyzer that isn't an oscilloscope. http://en.wikipedia.org/wiki/Oscilloscope Notice how it said "oscilloscopes called spectrum analyzers" and not "oscilloscopes that can be used as spectrum analyzers". I really like this wording never heard from any techs in my life but both have CRT and that how u compare them hmm and u call your self tech ? I don't think so by the way I have 2 scopes at home I can sell one cheap I don't mind to help beginners I hope he still likes my wording. I'd also like to met someone he'd refer to as a tech...one that doesn't know a spec anni is an oscilloscope. I never call a car a vehicle but does that mean its not a vehicle? Good reason behind why a spec anni isn't an oscope ak...good reason! lol. Also, no I don't think they're related because they both have a crt. Why? The form or intended function of an oscilloscope is not what makes it an oscilloscope. Oscilloscopes can take on many forms and use displays ranging from paper to crts to leds to lcd and anything else you can make work effectively and can be used to measure anything that can be converted into a voltage....which is damn near anything. I suggest you read that entire wiki, and then do a bit of further study, so that you can understand what it is you're talking about. I'd actually like to know what you think a typical oscilloscope is made up of since your spec anni isn't an oscilloscope just because it has little more than filters and a display driver. Here's a hint for you - just about any electronic device can be simplified and still retain its basic functionality. For the sake of further arguement, lets assume you have a special spec anni that isn't an oscilloscope. Why bring it up in this conversation? It's very obvious I'm talking about a spec anni that is an oscilloscope. Was this an attempt to 1-up me or just some unrelated information you decided to share for the hell of fit or did you actually think that there were no spectrum analyzers that are oscilloscopes? Nevermind...I've already quoted an answer for that question. You thought: To bad the wiki has proven this statement incorrect. Finally you get it right, but why say alt f4 still closes a window like that's what you've been saying the entire time: You're finally 100% correct! An application is an executable file (.exe) not a program. A program is what makes that application work and can contain more than one application along with many other files. Without a program to run it any application, by itself, is useless. Hopefully you now know the difference between a program and an application and can see why I argued against your statement that: Is that some sort of cctv/audio field only enema? Maybe we can go together and you can show me how you've been taking it like a man for the last 30 years.

Apparently neither is your website. I suggest spending more time on it then you have on me.

------------------------------------------------------ I really like this wording never heard from any techs in my life but both have CRT and that how u compare them hmm and u call your self tech ? I don't think so by the way I have 2 scopes at home I can sell one cheap I don't mind to help beginners Hmmm.... ya know, I've been in electronics for a good 30+ years, I've never heard of a 'scope "sometimes called a spectrum analyzer" either. Some 'scopes CAN BE USED as a spectrum analyzer, as one of their many functions... but the two are NOT the same thing. Scott's taken every opportunity here to 'whip it out' and offer himself for measurement... no need to stoop to his level, I think he's proven himself relatively deficient. He'll argue around and around forever without ever backing up his claim that VLC is of ANY use in determining a CCTV camera's TVL. In short, methinks he doth protest too much. This is funny. I was going to stay away because its no longer about electronics or the measurement of resolution or tvl, but I figured I'd share with you: Remember what happened last time you were so confident about something??? (alt + f4 WILL CLOSE THE PROGRAM....does that ring any bells?) Soundy you're right, an ordinary oscilliscope is not a spectrum analyzer however a spectrum analyzer IS an oscilliscope, one that's capable of distinguishing spectrums in the GHz frequency range. The only other difference lies in the fact that spectrum analyzers are usually used to measure strenght of a signal againts its frequency and a normal oscilliscope is used to measure strenght of a signal against time. Soundy 30 years in electronics and you don't know a spectrum analyzer is an oscilliscope? That doesn't suprise me considering you say things like "the tvl capabilities of the sensor", but it does make me question the 30 years in electronics. Maybe 30 years in this small niche of electronics, that I can see and would be willing to believe, but 30 years in electronics.....saying the crap you've said in this thread alone? I don't buy. Also, for like the third time in this thread, you've already proven that vlc will give you the output pixel resolution which can be used to determine the tvl...is it accurate? Nope...and I've said so from the beginning. Ak, yes I call myself a tech, so does my current employer and so did the united states marine corps....who calls you a tech? Stick to being a pushy salesman. You've tried selling me cameras and now an oscilliscope...whats next? Once again, though, you guys are stuck argueing semantics. Why didnt you pick up on this obviously "discrediting" issue earlier when this thread is 3 pages long with nothing but you trying to discredit me with any information you could? Because its not an issue. The salesmen says something he thinks is clever and you jump in as well? Would you have rather I said "the only accurate method is with an oscilliscope called a spectrum analyzer"...or maybe "with a spectrum analyzer that is also called an oscilliscope? Continue argueing semantics, its starting to prove you all know what you're talking about crirvine- You're required to have a license, from my understanding of it, because you're held to a standard. It says nothing about your work/skill other than that if you go against the ethical guidelines needed to keep that license....you lose it. Other than that you just apear to be a 25 year installation tech, which is great, but with the 2 years of elctronics you've already studied you have the foundation to be capable of so much more. Again join me in continued education. That 2 years of electronics qualifies you as someone who should understand theory and someone that should be able to work with/repair simple circuits. I doubt your building anything from scratch, unless you've left something out of your "resume", unless you define building from scratch as "putting together the prebuilt parts". If you are building these from scratch then the company you work for needs a better manufacturing process as building an entire dvr system from scratch (when someone says "from scratch" in the electronics field I think of taking a clean bread board or layout and soldering in each and every component by hand) would be time consuming to say the least. So unless you're going to tell me you do this for a hobby I throw up the bull**** flag right now. I've also removed the link in my sig. Now I'm not advertising my "no name" gear. Regardless of what I sell I'd still like to know how you use that as a measure skill? If I was selling cocaine instead of selling cameras I would still have been formally educated as an electronics technician. Product is a measure of what you have available...not your expertise with the electronics that make that product. You can continue to make fun of the equipment I sell. Again, I'm only selling it until I can afford to buy better. Also I've yet to sell on ebay as I don't think the fees are fair for small merchants like they were back when ebay started. Are you an example of the "respected" member you'd like me to become? Again, all I've said here regarding electronics is all over the internet. My schooling and military records are public access as well. So I've no need to lie, or exagerate, as I'm not hiding behind a screen name and the lie/exageration could be easily shown for what it was. Alex, I think I've come up with my own reason behind why most don't stay here very long. Personally I dont think it has anything to do with not getting paid to do it. But don't worry guys, once I can get the use of my hand back to what it was prior to getting stuck in this brace I'll have no reason to waste my time here, and can continue on with my normal routine. Which means you can go along misinforming people by acting like you understand the electronics behind the equipment when you don't, hell you don't even fully understand the test equipment you claim is at your disposal. I was looking for a more.....knowledgeable community anyway. Again, hopefully I'm wrong and you guys are just the exception and not the rule.

I think its great you started out your career with some formal education. I don't think its great you thought 2 years was enough. I've been taking radios/tvs/computers apart and putting them back together since the age of 6. Ive had formal education in electronics, electronic equipment service and repair, computerized electrical technology, UHF, VHF, SHF, and satellite communications (all of my formal education is easily verifiable via a background check as is my training...you already have my name just remember im a jr)....and the education continues. Electronics evolve every day, (only the theory stays the same), so i dont suggest believing 2 years back in 79 helps you out that much. All it does is give you an upper hand when you go to get caught back up to the times and, what I would have thought to be, a better understanding of what i was saying than the rest of these guys.. If you're saying anything I've said (all of which can be googled) is incorrect...you may want to head back to school to brush up. I did not know people paid for anything more than the ad space here on the forums. I thought my signature was my signature to do with as I pleased. If its a rule I can change it....no worries. But if you're trying to tell me you're not doing what I am...who's site is that in your sig? You dont sell online? If that webage says anything about the ability to contact someone to pay money for anything...you sell online. Just because you might not get any calls from anyone outside of your state doesnt mean noones looking. I have people from every where looking at my site and I wont even ship out of the US. Do you use a tool like google analytics to analyze the traffic your getting? You're helping people for the same reason I do (well actually i found this site because i broke my hand and cant hold my tools and was bored one day). I'm not here to sell, or I'd advertise in every post like some of the other people, or buy adspace at the top and sides of this forum. As it stands I don't because noone here would want what I can presently offer. But if someones looking for a cheap alternative I'll definitely offer what I have. If they dont want it I can offer my recomendations based on what they want do want. I may be a salesman because I own my own business, but I have no issues with sending someone elsewhere, I'm an electronics technician before Im a salesman. My business is my 'secondary' income. But if I can make a bit of extra money doing/talking about things i love to do/talk about...why not make a bit of extra money? Especially with times as they are now. My link in my sig is more for SEO than for you to buy something from me (Much the same reason yours is in your sig I bet...especially if you're still going to claim that your not selling something online). The fact that you "don't sell" online speaks wonders for why you dont know why I'd label a link "Professional Cameras"...again seo. I know the gear is no name...which is why my bounce rate is so bad. But with 25 unique visitors a week as of right now and only being online 3 months once I get the gear, I'll be fine. Again what I sell is only indicative of what I have available to me. I can't go sign a contract with Bosch to buy 10,000 units at a discounted price, I can't afford to do that (if thats even the way its done). So I sell a lot of these and get better equipment with the profit. It's how some business' start if they're not funded or backed by the company they sell/install for. I can tell alot about you by your site as well, I suggest rethinking the design as the present design is... Why not just provide one link for people to send you an email? Damn near every link on your site is to send an email (or call) for further information. Continue to bring the pain in the form of your insults. Its going to take a bit more than that to get under my skin. I'm a prior Marine...all you're going to get is return fire. Now I can say I'm done with this thing. This is now a measurement of skill and product and not a measurement of the resolution or TVL of the camera or the electronics behind it.

Well soundy, I'm still waiting for you to answer my question where I asked you to show me where I said actual tvl could be measured with VLC. I said the only accurate way to do this was with an oscilliscope. I suggested VLC would get you a known resolution to base your answer off of. (TVL and pixel resolution are not the same...they are relative). In my third post I said this was inaccurate, later on in the discussion I even explained why this was inaccurate. But the fact that it was better than just hoping/guessing has already been proven by you, only you failed to see the relation...or maybe you didnt, which could be a reason as to why you danced around my question regarding the tvl of your camera. At this point I'm also not concerned with if you believe what I'm saying is true or not (googling any of the "babble" or "bs" I've presented here will find you a wealth of info regarding what I've said), because you're not what I originally thought you were. At this point I must amend my original ideas and assume only that you guys have a better understanding of the equipment than a typical user would. Which is great, I just didnt expect it. Which is why you guys are quick to dismiss any talk of why/how the equipment does what it does as gibberish and bs which is also why you've been able to get away with statements like "the tvl capabilities of the sensor" or trying to define demaximize like thats really what it was called...and screaming that alt + f4 CLOSES THE PROGRAM". Which in my eyes are all the epitome of babble and bs, but people have probably eaten that up here huh? What is it you keep saying? dazzle with bs or something like that? Hoepfully you guys are the exception and not the rule.

What VLC will show if I connect Standard NTSC color generator instead camera ? Lol my guess is nothing but a 640*480-720*486 window of pixelated garbage, if it works at all, but who knows you just may be treated to the same exact test pattern signal you put in. I've never hooked one up to a computer to see what VLC would show, matter of fact I've never hooked a color generator up to a computer....maybe the monitor, but not the computer. A color generater was designed to test video equipment (cameras, monitors, video recorders etc...understand?) Not media player software or a computer. Again I find it important for you to understand that a computer doesn't care if your signal is pal standard format or ntsc standard format. So it doesn't matter if you use an NTSC standard generator or a PAL standard generator. Hopefully this was a question of curiosity and not one where you were trying to prove something. If you were trying to prove something with that question...stick to what you guys are good at. You might be great with names and model numbers, and you can obviously run some tests on the equipment (hopefully you understand what your reading from these test or you may end up thinking the reduced tvl is due to a bad sensor and not the capictor/resistor/ic/circuit design that may actually be causing the issue) but when it comes to the electronics behind those names and model numbers....you hold no water and have to resort to argueing things you obviously only understand slightly calling it bull**** or babble when someone tries to 'break it down' for you. I suggest you 3 start with this link http://www.electronics-tutorials.com/ when you're done with those tutorials find more, go to the library and take out some books on electronics, build some simple circuits to get your feet wet, or better yet take an electronics class at your local community college. Then come back and post to this thread. It would do you a world of good, not only in this thread, but with you choice of profession as well.

In business as what, a supplier of surveillance equipment? About 3 months. If you want to know how long I've been paying bills with electronics then that would be 10 years professionally, with about 20 years of experience. How does how long I've been selling the equipment mean anything in this discussion. How long have you been working with electronic circuits? Not to be confused with how long you've been working with surveillance equipment. Surveillance equipment is a small classification of electronic equipment. A camera is a camera no matter how its used. The same as when Soundy tried to educate me concerning the game adapter, the "surveillance" part of the name surveillance equipment is a marketing ploy. The thing I find funny is how a bunch of "surveillance equipment experts" find the discussion of how that equipment actually functions bull****, or can even consider labelling it "babbeling". Perhaps I was looking for more out of the community in such a tech savvy industry, hopefully you guys are the exception and not the rule. Also I'm glad you had a chance to look at my site. What I sell doesn't indicate anything when concerning my electronics experience. What I sell is only a product of how long I've had the connections to get the equipment at wholesale prices I can afford...again 3 months. Unitl I can find a way to get big names to deal directly with me I'm stuck selling no names. The only other part of your post I understood was in regards to paying for adds...do you see any adds on my site other than the safesurf logo? At this point I'm still the local guy with a website. The rest I dont even understand what your trying to say with...so I can't respond.

Yes we agree on all this information....except for the fact that you keep saying an image sensor has anything to do with resolution or tvl...but again I know what you mean. Your telling me the resolution produced by a camera cannot be be viewed by VLC? Hook up a camera with 320TVL in the same process you did here, if VLC doesn't display an equivalent resolution I'll eat my words. A sensor has nothing to do with TVL or resolution. Besides that though, your exactly right. Regardless if the camera is capable of this or that TVL, the output is 525 lines intended for an analog receiver. That ntsc formated image is carried on a carrier wave (this is why bandwidth is important) that also has information about everything else...from what color was the sky to what tvl resolution was decided by the circuits in the camera. When the analog signal is translated into a digital format that analog signal becomes a digital signal. (Which is why computers dont care if your camera is transmitting a pal or ntsc format...by the time the signal is utilized by the computer its already digital) The digital signal has all the same information as that original analog signal, it's just...digital. And that image, instead of being displayed at 520 or 280 tvl, is displayed in its digital equivalent. Again, they're not the same so equivelant isnt the best word to use, they're only relative. I think I know what the problem is. You keep getting hung up on the sensor. Take the sensor out of the circuit and the tvl the image should be formated into can still be determined....if the image sensor were there to catch the light to generate the needed voltage that is. All the sensor does is change light to voltage which is then stored in capacitors so it can be used to start the "image recreation". (This explaination is simplified) Without film to chemically record the light, the image a camara produces is actually created digitally (with 1's and 0's) regardless of the signal output.

Pot, meet kettle. Like I said, until you provide the video proof to back up your claims, I'm out of the discussion. First thing-show me a question you've asked that I've yet to answer. You're not going to be able to because like everything else you've accused me of saying...its nowhere in this thread. instead of the outcome you want, your attempt to discredit me, you only succeed in dancing around another question. Exactly how many dances do you know? Second thing-How long have you been working in this small niche of electronics? No video proof is needed. I thought this was made blatently obvious my last post when I rhetorically asked you how many tvl your camera was capable of pushing out. Lets start out at the beginning where this all started, hopefully you can follow along if its all in one post: I said- Thats not even considering the fact that you can hook your camera directly up to your computer, even if its not an ip camera (in most cases only needing an adapter), and view the image generated directly thru vlc or a program like it. vlc (and other similar programs) is a less technical, less accurate, means of verifying that your image is as you were told it would be. You were told the camera is capable of 720*480? Well vlc, and programs like it, will verify this....is it accurate? No! But is it better than guessing and hoping that your system is pushing out what you think it is? Yes! *It was around this time that, even though its obvious that during this barney styled explaination I said "or a program like it", you started thinking that I said this method was dependant on the software. Again I can only suggest you read more instead of trying to interpret your own meaning. or ask clarifying questions so that you can be sure that the arguement you're about to start is based upon the idea the poster was trying to express...otherwise you're left argueing semantics* you said-If your capture hardware can only capture at 320x240, then how is the software going to determine TVL resolution beyond 240 lines? Which is where you started getting off track for the first time. The method I described never said anything at all about capture hardware. We're measuring the resolution produced by the output signal of your camera to determine the related tvl. No capture hardware is used unless you want to think of your usb adapter or usb port as "capture" hardware...but saying that is a real stretch. i then provided these instructions to your continued questions (oddly enough showing just how much **** your statement, in your post preceeding this one, is full of) which say nothing about a capture card/hardware other than pointing you to the part of the vlc documention that would instruct you on how to set vlc up to accept streaming video from your camera- 1. Take your camera and equip it with its appropriate usb adapter. 2. Plug said usb adapter into your computer. 3. Open your latest version of vlc. 4. follow this link http://www.videolan.org/doc/play-howto/en/ch03.html 5. "Specifically" search for "Play from an acquisition card" and treat your security camera just as you would a webcam you had no driver for. Or in other words no driver...no options to configure. you said-in my tests, according to your instructions above, it displays a 740x480 pixel window (plus frame, toolbar, etc.), and states the video resolution as 740x480 indicating that yes vlc will give you the output pixel resolution of your camera just as I said it would. It wasn't until later that I found out that this resolution was accurate, despite your choice of adapter. you also said-This NLC5700 outputs NTSC SD video which told me the vlc resolution you saw was indeed accurate...again despite yur use of a band limiting adapter. *It's important to note that had you used a hd signal then your game adapter would have limited the output....which is why I first argued about your use of this hardware. Up until you dropped the bomb regarding the output of your camera I had assumed you'd try a hd camera....I assumed this because had I chosen to disprove this method it's exactly what I would have done as the usb port would be the limiting hardware. FYI-if you want to descredit a method in the future go for the weakest link, which in my method is the usb port.* I replied-740*480 pixel resolution is the same vertical resolution as ntsc sd (640*480 to 720*486 depending on the source) and ntsc sd has how many visible horizontal lines? 480. How many tvl is your camera is capable of pushing out? My educated guess was that this answer was somewhere around 480TVL, indicated thru my answer for the belittling question I asked previously. I had doubts you'd answer my question regarding the tvl of your camera, because you've danced around any other question asked, and I was right. Instead of answering my question you resorted to childish word games- "Pot, meet kettle". So I researched your camera for myself. Well...I've found the camera I think you're using. If this is the correct camera then the answer to my question is 470TVL, per documentation which I seldom rely on as accurate, but I'll go with it this time since I have no physical access to this camera to test it myself and couldn't find the schematics anywhere. Hmm seems my method worked. It showed you the resolution that the camera was producing, which was 740*480 by you're own words, which should have gavin you all the information you needed to estimate TVL (480) used to create that pixel resolution. As I've already said, this method isn't accurate (480 isn't 470 but its damn close and almost visually impossible to tell the difference between the two on any display used). Though with the way this was tested I'm happy with the result. But why did I introduce this "after thought" as inaccurate? Because it doesn't take into consideration any band limit/amplification imposed by the hardware/software used and because tvl and pixel resolution are only relative...not the same thing, so it can't be used by itself to determine exact tvl (but then again i never said exact tvl could be gotten via this method...hence the use of the word "inaccurate"), you need further knowledge to do that, it only gives you the output pixel resolution (like i said it did) that you can use to base the rest of your answer on. The point is even if we weren't able to estimate the tvl with the pixel resolution produced like you have proven we can (well actually it was me that did that...you failed to see the relation between the two" the OP's original question ("how do I measure the cameras resolution or tvl") would still have been answered by this suggestion as the resolution was easily found by you using the method I described. You turned this into measuring only tvl. So I continued with the explainations, dependant on your questions and even in the face of the fact that you were blatently trying to discredit me. I even asked you a question of my own so that we could see how this pixel resolution relates to actual tvl. You need to stop trying to bait people into positions that will allow you to discredit them in a (perceived) attempt to establish yourself as the only authority on the subject. Like I said before, keep doing this and when the real techies show up you're going to be stuck being assed out claiming "I can't get it to work so it doesn't" Maybe had you said i fail to see the connection between generated pixel resolutions and actual tvl this conversation could have gone a completely different way...but no, you decided to argue a subject which you only have a passing comprehension of. Surveillance equipment may be your world...but the electronics that make that equipment work is mine.

If you're talking about fixing the alignment of the heads with a rubber hammer...yeah big no no. Those should only be aligned by the guides or electronically. I wouldn't attempt to use a malet to realign the head drum personally...but I suppose it would work. If you've got to take a malet to it I'd suggest replacing it and possibly the entire assembly.