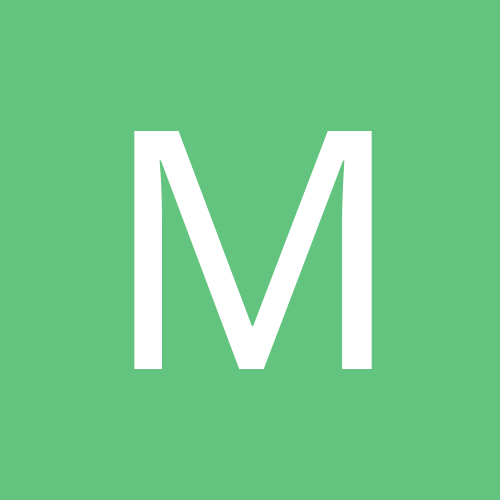 Content Count

46

Joined

Last visited
Community Reputation
0
Neutral
I could explain the partitioning under win 7 here but it would take a lot of writing. I would suggest to use the windows help on the computer, or you could watch a few videos on partitioning in windows 7 on Youtube. Just search windows 7 partitioning and it will all make sense. My experience with it has always been from hand made computers and not Dells, so naturally you do this at your own risk. I do have to say that it should not mess with your Operating System at all unless you make the OS partition too small, hence the 40-50GB for Win 7 that I suggest. I know some people put other programs like Adobe products and such that create swap files from the C: drive specifically, so one would want to take the OS partition size into consideration with future software upgrades. As far as backing up, I know Avermedia allows backing up manually and by schedule to drives that you choose, whether those be another computer on the same VLAN or onto DVDs and such. I can tell you how I set our department's up since we are law enforcement. When I made the computer I installed the windows xp x86 on the C: partition of a 500GB 7200 HDD. The partition size is 50GB. The remaining partition on that drive (E:) is named Saved Data, for all the criminal archived footage. In the Avermedia sytem window six more SATA HDDs totaling roughly 7.5 TB of space are mapped to the recording function, which gives us about 28 days of saved footage before Avermedia erases and records over the old footage. The only backup of the data we do is from our E: partition to a second computer that gets sent to the prosecuting attorney's office with our arrest reports on a CD or DVD depending on the size. We just write the data in .dvr format and include the player on the disk, since it seems that Avermedia is sort of spotty on converting the MPEG or AVI. So, in essence, by the end of a criminal investigation we have two computer hard drives with the footage and at least two CD/DVD with the footage and player, oe in the court's hands and the other disk in our file cabinet with the arrest reports.

So I just wanted to put this out there for Avermedia users and would be users as it relates to MP cameras. I have been tracking our system resources for some time and made some observations. As was said in previous posts, the 7.7 software seems a bit choppy in live view as compared to the 7.3. That said, if you are planning on using MP cameras 3MP to 5MP, you are pretty much forced to use the 7.7 software if you want the playback unlocked for original format ie. your snapshots and playback footage are in true 3MP and 5MP size. The throughput is a two-fold issue as I see it. What I mean is you have the ethernet speed and you also have the bus speed of the Avermedia card and and the bus speed of the motherboard itself. Ethernet speed: Most NIC switches are 10/100/1000 nowadays, but how many cameras does that support if you only have a router or switch in your target building that runs at 100 Mbps? Well I found that with 24MP in total sending data to the computer, the network traffic was constantly at 130-150 Mbps. So you can roughly expect that when you reach 20 total MP in cameras on a particular system you will need to bump your switch to 1Gbps or you will have even choppier live view and skipping recorded data. A general rule from my observations is that you can expect about 40-50Mbps to your network load per 5MP camera at 10FPS at full resolution. Bus speed: Avermedia has been spewing out the 42 MP system limitation for some time now, and now it is evident that the controller on the NV cards just can't handle anymore throughput than that. That said, it is actually pretty staggering that their card controllers can do even that amount since from the amount of information per second from a maxed 42 MP system is just huge. The only hope to lessen the card's work is in newer compressions in the future. The bus speed of the card also means nothing if your motherboard is older or it has an inferior chipset, since that will most likely be the bottleneck and not the card. Just a couple of observations and food for thought.

I agree with that since constant writing to any hard drive will be hard on it period. I was alluding to the OS on the C: partition say 100GB and then the E: partition, say 350GB+ for saved footage that you export. That configuration would give a person with a 430 Vostro two free SATA ports for 1-2TB hard drives for Aver to write to constantly.

I thought the real work of the DVR cards was not in the encoding/decoding of the image streams, rather it is in the compression for storage. Obviously one can argue that the data streams of multiple cameras are being encoded while being compressed, but that does not involve the video card at all since the CPU cores have to process it first either way and then send the info to the PCI bus. I tend to agree that a faster processor and 4+ gigabytes of ram would go farther to manage the resources than a video card. The bottleneck is not at the PCI-E 2.0 slot, it is before it.

Dell's motherboard specs shows four total sata ports on the board. That said, if the case comes with an operating system HDD and an optical drive that only leaves two more spots for additional drives. Not sure if Dell will partition a drive for you out of the box to secure the data, but that is easily done in win 7.

Well so I found some time to uninstall and upgrade to the SP2 option from Avermedia. As I found out last upgrade from 7.3 to 7.7 software, the process I used is as follows: 1. Exit system after making sure to export a config file from the system section. 2. Uninstall DVR software, I use add/remove programs. Note: this only removes the DVR program folder and not the driver folder. I then manually delete the DVR folder on C:\Program Files\DVR 3. Go to device manager and Uninstall the 1 or 2 DVR cards. 4. Restart the computer 5. Cancel out of new hardware wizard found on reboot. 6. Install the new software, in my case NV7.7.0.0039SP2. 7. Login after another restart 8. Go to system and import config file. My observations: Avermedia fixed some things that were not functioning properly... Installed information in the about section: Software version= 7.7.0.0039 IPcampatch= 5.0.0.0035 1. Snapshot resolution in 7.7SP1 was able to capture up to 5mp 2560x1920 resolution in live view only. An export of snapshot in recorded mode was maxed at 1900x1200. After the upgrade to 7.7SP2 the snapshot ability in live and recorded mode goes up to 5MP 2560x1920. (This may be controlled by whether or not you have transcode or original format checked not sure). 2. Arecont 3100M camera firmware 64327 still does not give video if set to 3100, but if you set the camera to 3130 it works well. 3. Right click and drag zoom boxes worked only on live view in 7.7SP1, but not in recorded view (playback) for 5MP cameras. On the 3MP cameras the zoom would work, but it would zoom into the wrong part of the frame, usually outside the zoom box you made. In 7.7SP2 the zoom works in live and playback as expected. 4. Live view is still choppy, even at 10-15FPS on 3MP and 5MP cameras. The recorded view is less choppy than live, but you can still spot the chop, which seems to increase depending on if the camera is a 3MP or a 5MP, 5 being more choppy than 3. 5. Acti camera ACM1231 reports as the wrong camera model in this patch .0035, which should be corrected if you install the .0057 IPcampatch. I have not gone through all of the software, but from what I can see there are no new features or buttons that "pop" out at me. After the upgrade I had to block out the motion sensitivity boxes per camera, as the config file did not seem to have that in it, but it did have the saved sensitivity settings on regions 1-3. The cons I have at this time is the choppy live view and the chop that is also recorded. I do think that Avermedia should have put out a readme or a realease note explaining the upgrades, at least to justify why a person would want to install 7.7SP2 over 7.7SP1. I will be testing the system a bit more tomorrow and also pulling out one of the DVR cards (6480) to see if the chop has anything to do with the two cards in tandem. It seems that I will be maxing one of the cards at 42MP total on this one system before reaching 16 channels used, so I don't need the second card installed. Think that is it, sorry for the long post, but I think it may clarify some things, and maybe help a few trolling this forum. Regards

Unfortunately, that will not be possible. The system is for a State institution on a protected VLAN. I can wait for Avermedia to offer regular downloads for the little things I have mentioned. Now that the Arecont camera isn't glitching, which was the main concern, since it covered a deli area that has a history of burglary, I feel confident that the camera will give usable footage. The digital zooming would just be an added bonus. But what I don't understand is why digital zooming was able to be done in the 7.3 software on the recorded video from my 3 and 5mp cameras, and now in 7.7 it is not. Like some others, I am considering dropping back down to the 7.3 software in hopes that the zooming will be able to be done once again.

Tomcctv, I downloaded that one and installed with no hitches. The issue is that since Ipcamera patch .26 to this latest one .57 they pushed out on 3/18/10, the random glitching and camera stream has been getting progressively worse. Only with the 3100M I get the scrambled signal glitch every 20 seconds or so, and then the motion gets triggered and it records for a couple seconds. A couple weeks back the software seemed to error out for that channel right after a watchdog restart. Whatever it was forced video loss for about 6.5 hours. With setting the 3100M to a 3130, all the glitching and random video losses have stopped, so whatever is causing the glitching is definitely in Aver's 3100 .ini file. That all said, it doesn't matter to me what I have to do to get Avermedia to play nice with that camera video stream, as long as I get it to do it. I have to say though, with it set as a 3130, the picture is sharper as stated earlier and I can also max the FPS out on that channel now. I know 8FPS at 3megapixel is not all that bad, but I really like the 12-15 I get now at that resolution. Now if Aver would fix their digital zooming on recorded video for 3MP and 5MP cameras, I would be in fat city.

Unfortunately, Avermedia support was not helpful in the IPcamera patch realm for the Arecont 3100M. All they said is for me to be patient and that their engineers were working on various issues in their software. For anyone else planning on getting these cameras or that have the cameras, I have had a lot better luck with setting the 3100M camera as a 3130 in the IP camera setup window. Seems to give a sharper picture as well. This is with the IPcamera patch version .057 Best regards

Thanks Tom, but that is the latest IP camera patch release notes, not anything about 7.7SP2 information. It seems that they had to have made some bigger changes to warrant a release of SP2 and force the users to uninstall and reinstall the base software. I do have to say that Aver does a good job of telling us what IP cameras they support and what firmware though. Best regards

Currently I use IQInvision- IQeye 753 3MP (set to IQ703 protocol) IQeye 755 5MP Arecont- AV1300m 1MP AV3100m 3MP Acti- ACM3401 1MP ACM7411 1MP ACM1231 1MP

Anyone have any information of what Avermedia upgraded a couple of days ago with this new 140MB zip file? I really have to fault them for not adding a release note or a manual (that I know of). Unfortunately, I can't spend the couple hours with our system down to uninstall SP1 to try the SP2 out. I would hope they got some kinks worked out for Ip cameras 3mp and above. Any info would be appreciated.

Mnorman replied to mr_larry's topic in AverMedia

My guess would be that it is the software interface with Windows 7 x64. Avermedia right now doesn't like x64 very much, so that is why x86 or 32bit is recommended. The system resources being used looks like a memory leak from the software to me. I don't know of any fix or work around, I think we are all just waiting for more support from Avermedia.

Mnorman replied to seanmke07's topic in AverMedia

I would venture a guess and say yes to the chipset, since it is a 945 Intel.

Anyone having video loss problems with this camera and 6480EXP cards, version 7.7 software? I see Aver hasn't pushed an IP camera patch that matches the firware version 64327, in fact they have just left it blank with "--" in the space for damned near a year. I have a 1300 Arecont as well with the same firmware and Aver does state a version they support on that camera, be it a little lower. My specific problem is the camera will drop video for seemingly no consistent reason. It seems that it is based on the FPS setting and the Quality setting, which I can only set to 11FPS and quality 8, any higher and it drops video. Alternatively, if I drop the FPS to 8 in the Aver detail it won't display video either. It seems to have a sweet spot of sorts, but it also seems to get fed up and drop in the sweet spot as well. I have mostly relied upon the camera settings and not Aver's detail settings, but they still seem to control certain parts of the video no matter what I do on the camera side. Any suggestions would be appreciated.