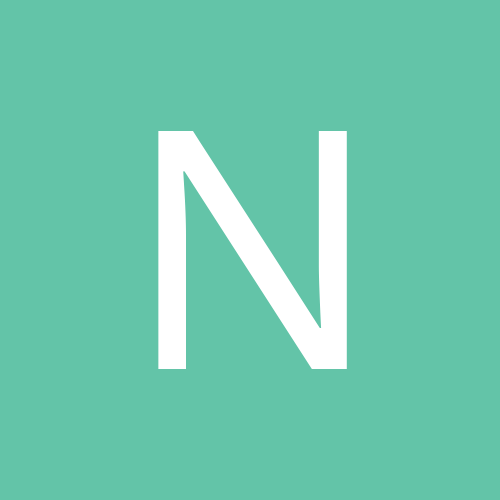 Content Count

122

Joined

Last visited
Everything posted by n0fx
I bought some new Hikvision 4MP cameras (DS-2CD2042WD-I) with firmware v5.3.3 on them, so I tried to use them with the Hikvision 7104NI-SL/W but they don't show any video. The main screen shows no video on it, even though it's added to the NVR. I activated the cameras using SADP v2.2.3.6 and changed the default password to Password1, set a static IP on the camera, and try to add it using the static ip I assigned, management port of 8000, username admin and password Password1. When I hit add, the NVR tries to connect to it but after 1 minute, it says disconnected but the NVR can read the camera model # and firmware number. The strange thing is when I use the search button to find cameras with the NVR, it says 0 channels are available. I can connect to the camera directly via Internet Explorer and I can see the streaming video with the correct credentials. I have another machine from Hikvision (7608NI-E2/8P), and it works fine with the camera, so I know the camera works but it just won't work with the 7104NI-SL/W. Does anyone have any experience with this? I'm out of ideas and I'm afraid that this particular NVR doesn't work with it and I need to get another model. I'm looking to use the cameras to just stream without any recording, so I'm looking for the cheapest NVR that will allow me to stream to a TV/monitor.

Check that you have enough spare bandwidth on this NVR, also, un-check H.264+ in this camera. Old firmware on NVR doesn't support it. I have an update to this, I ended up finding the H264+ setting on the 2042 camera, it's turned off but still didn't work. I ended up reducing the resolution to 1080p and the bitrate to something lower (2048 Kbps) to get the NVR to show some video. If it's set to 2688 x 1520 with 1 camera, the NVR still wouldn't show anything. The firmware on it just doesn't like it and I know if I use 1 camera, it should of worked. The bitrate was set to 6Mbps and the NVR can go up to 20 Mbps max.

Check that you have enough spare bandwidth on this NVR, also, un-check H.264+ in this camera. Old firmware on NVR doesn't support it. Thanks, I didn't think of turning off the H264+ on the camera. Is the option available on the 2042's? I'll need to go look for it. For the NVR, the one I'm using to stream, there's nothing going into it (only 2 streams). I think it should have all of it for streaming.

Guys, I was thinking of getting one of the fisheye Hikvision cameras with the built-in microphone. (DS-2CD6362F-I) For the audio, on the pigtail of the camera, there's a cable to connect a line to it for audio out, is it possible to get the audio feed from the internal mic through IP directly without running another line? I'm going to hook this up directly to a Hikvision NVR and record the audio that way. Also, do you guys know how far can the built-in mic reach? Thanks!

The audio out is not for the mic audio...its for a speaker...the mic audio is transferred over IP via ethernet. Great, that's good to know.

Yup, that's the one. Waiting on the release of that one.

Thanks, sounds like all software based for now. I'll wait for a NVR unit to do it, as I only need 4 cameras to hook up to.

Don't think that NVR will work at 4k resolution. It only goes up to 5MP and 4k exceeds that resolution.

I use Geovision GV-NVR for regular 2560x1600 ip cams. It will take more for 4k cams but if you have a small number of cameras it's not too substantial. For enterprise installations it will be very substantial. For my DVR I have one drive for each cam plus an extra hard drive for the OS and one more for the application. I Thanks for the info. Are there any NVRs out that can do this or is it too new? I only want to setup maybe 4 of these and mix them up with some 3MP/5MP cameras. It sounds like it's more for enterprise use for now until prices drop a bit.

What are you guys using to record the video? NVR or pc with software? I would imagine 4k video taking up a bunch of HDD space.

so, the only way to record the 4k streams for now is the use the iVMS software and there's no NVR that works with the 4k bullet cam?

I answered my own question, you need Hikvision v5.2.x or greater on the camera to support Profile S, so you can use ONVIF for Hikvision on the Dahua NVR.

Have you guys had any updates on the ONVIF with Dahua NVRs? I was thinking of getting a hybrid Dahua (HCVR5208A-V2) and use the Hikvision DS-2CD2532F-IS mini domes but from what it sounds here, it might or might not work, depending if it supports Profile S. I went to Onvif's website but I couldn't even find it on their search tool but the specs say it's supported with ONVIF.

I hope they are in a good price range. That's what I'm hoping to. I want to play with these or atleast look at some samples here. I saw it at the show but it was hard to test it in dark conditions.

I just went to try to fix it and it looks like I need to reboot the decoder to have them stream video again. I tried to reboot the individual cameras but it didn't work, the status page says no video frames decoded, like it just died.

I have a DS-2CD2132-I that keeps crashing due to pulling too many streams on it but I was wondering if there was any way to reboot the camera automatically at a certain time/date? Everytime I reboot it, it seems to fix the problem.

Yeah, any pricing on these? They couldn't give any pricing at the ISC show and they said it wasn't out "yet".

I got 8 cameras on one Netgear PoE Switch. The NVR #1 and #2 are plugged directly to the Poe Switch also. All cameras are plugged into the PoE Switch and not behind the NVR unit. The decoder I got is also plugged into the PoE switch. I've attached screenshots of the settings for the camera plus the decoder status.

I'm pulling 2 Main Streams and 2 sub streams. From what Hikvision is telling me, it doesn't support more than 2 streams officially (1 main and 1 sub). I already bought the Hikvision decoder, DS6404HDIT, but I get occasional times where the camera stream would just die and the other camera on the same output (vga) would just get slow or stuck (2 of 4 cameras get messed up). I had to manually reboot the camera every couple weeks and I know it's not a switch issue, replaced it and still have the same problem. If I can't get auto reboot the work, then I might just install a new one at the same place and just wire directly to the network and pull a stream directly to the decoder.

Has anyone setup a backup or secondary NVR for a system? I got a Hikvision 8CH NVR that I have setup but I want to backup the data to another NVR or external NAS. I know Hikvision has a NetHDD config page but I've heard mixed stories that it doesn't work or it works for a little while then stops working after a while. I'm afraid if I pull 2 Main streams from my camera, it's going to cause problems with recording or the camera just crapping out after a while due to too much bandwidth getting pulled out. Has anyone have experience with this?

Has anyone tried the Dahua IPC-HFW1300S? I see it for $100 shipped from Amaz0n. The specs: 3MP Resolution @ 20 FPS; 1080p @ 30 FPS Aptina CMOS Sensor Combined with Texas Instrument Digital Signal Processor Full IP66 Weatherproof Rating Can see in complete pitch black darkness up to 30M Can be powered via 12V DC or POE (power supply not included) I just got an email from N3lly's about it and couldn't find any reviews on this guy. It's not bad for a 3MP for $100.

I'm thinking of installing 4 Hikvision DS-2CD2132-I (2.8mm) cameras for my place but I wanted to know what you guys think would be a good fit for a 4 channel NVR PoE machine? I was going go with the Hikvision DS-7104NI-SL/W, since it was the cheapest I could find for a 4 channel with PoE included or should I just get another brand that is ONVIF compatible? I found the DS-7104NI-SL/W for about $160 shipped from Nelly's.

You can't even buy it, can you? I can't even find it for sale.

Are you buying Hikvision labeled cameras or oem? I ask because oem/white box hikvision are not supported by hikvision usa. Are you in the US? I'm buying Hikvision ones, either from the US or aboard (china). I don't really care about the warranty as much, just more of functionality. I'll just buy extra ones if they break down, the savings alone can justify buying another one than paying 30% to 40% more. I am located in the US (West Coast).

I don't like how they don't provide tech support directly and you have to go through a reseller. I used to buy analog dahua DVRs but now I'm switching to HD stuff and trying to go through another company. Hikvision also seems to be popular here in the forums and seems to work pretty well. I've called them a couple of times for tech support, which were pretty helpful for me. What do you suggest for a 4 CH Dahua NVR? I can look for them if I can get a nice package of 4 x IR dome cameras with the NVR.