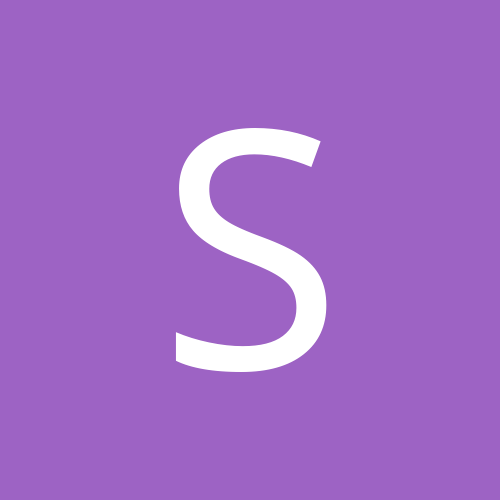 Content Count

35

Joined

Last visited
Community Reputation
0
Neutral
Hi all, I had an incident at my office and I need to install 3 additional cameras and I'm looking for a recommendation: I'm looking for ceiling mounted indoor fisheye cameras with day/night vision POE with great quality as I need to see people's faces. They will watching about 1,000 sqft/ea in an office with a ceiling height of about 9'. I'm looking for recommendations if anyone has any I already have blueiris running for all my other cameras Thank you

Is it possible to have my GV-1480 broadcast each camera stream into third party software? Essentially I want to use my existing setup as a analog to IP encoder for BlueIris to record.

Anybody have any experience with specific cameras?

I searched the forum but found a post from 2012 so I am creating a new one. I am looking for an outdoor wifi camera that has enough resolution to capture a license plate from 30 ft in the day or night. A bullet camera would be ideal. I already have a system running with 8 BNC cameras and 12 IP cameras. The IP Cameras are using Blueiris software so I would ideally like to ensure the camera would work. I've used ACTi in the past (bad decision) but switched to Vivotek which I love. Any ideas? I've looked at the Foscam FI9805W but feel I need a better image. Thank you.

After looking at the following document I see that I can easily achieve 1Gb/s using 62.5/125 as long as i don't pass 220Meters (721 feet). This distance i am covering is 450 Feet so i will be going with the 62.5/125 because most equipment supports this type of cable. I encourage any arguments that oppose my decision as I am very new to this. http://www.imcnetworks.com/Adocs/Support/to-fibercaldist.pdf

How can I tell if a switch will support the 50 micron cable? Most installers are telling me I don't need it. What bandwidth will the 62.5 micron cable support over 450 feet? I used an IP calculator to figure out the worst case scenario if i setup 50 cameras at 15fps using 1200x1600 and it says I need 322 MB/s (http://www.video-insight.com/Support/Tools/IP-Bandwidth-Calculator.aspx)

So I think I know what I'm going to get. I need a 50 micron fiber cable that is multimode and has at least 4 strands. I still haven't decided on the connectors yet but I see most people are using LC. I need to pull this cable throw 450 feet of underground conduits. The pull cord was put in during installation so I believe it will be easier to do. I'm going to use a $&!t load of cable grease and do my best to pull this thing through while someone feeds it in. Any ideas where I can get this cable from? Links would be appreciated. I'm also assuming about a $1 a foot is a good price and more than $1.70 is over priced

Thanks Jeromephone I would have been in a world of trouble if i'd gone with the 62.5. This leads me to my next questions...why do i need even 6 strands instead? i thought a single strand of fiber would do the job. Once again I've never used fiber before so any information would help. So for now i'm going with single strand multimode at 50 microns unless you can convince me I need otherwise. Thanks again guys, this is a huge help and it is appreciated

I forgot to ask a question. How should the multimode be terminated on each end? Some say SC while others say LC, what do you recommend? Also I need to buy a network switch. It must be able to except fiber(above), withstand extreme temperatures (It will be in a storage unit in new england), and have at least 8 ports for 100/1000 Ethernet (cat6) connections. I would love if it had another minimum 6 ports at 10/100 with POE but I think i may need another switch for only the POE. Any recommendations on the product?

Thanks Ilke, with multimode i can get 10 gbit/s at distances of less than 300m. I will only be going 150 meters so I'll be fine for many years to come. Thanks for all your help in figuring this stuff out http://en.wikipedia.org/wiki/Multi-mode_optical_fiber

You second time forget about fiber cable bandwidth Read this: http://www.arcelect.com/Calculating_fiber_loss_and_distance.pdf http://en.wikipedia.org/wiki/Gigabit_Ethernet So, if you have 2 km distance, 1Gbps link will not work with multimode cable, or you will need specific expensive gigabit multimode converters.... That means that since my distance is less than 500 feet Multimode will work, right?

As far as I know 64 cameras at 15fps, 800x600 equates to 360mbps. A 1GB/s Ethernet would work but the distance is over 100 meters so i would have to repeat it and I rather not. So the length is 450-500 feet and the bandwidth needed is 360mbps. I'm sure we have to take into account other factors like network hand shaking and other administrative traffic but I believe any type of fiber will handle my needs easily. I just need to make sure I know why some installers are recommending single mode rather than multi mode

I'm new to fiber, never used it. I'm installing a IP Camera system in my storage facility. The fiber has to be about 450 - 500 foot distance. The system will at most have 64 cameras (one day) but for now 6. I know the best way to send the data back to the server is via fiber but I've never used it. Some installers are recommending single mode while others are recommending multi mode. I know multi is less expensive and more useful in short distance while single mode is more expensive but can handle longer runs (excess of 2km which i don't need). Which should I be installing. Also some installers are recommend LC connectors on each end while others are recommending SC connectors. I'm lost and don't want to end up with a system I can't use. Any input would be great, thank you

I will be using a switch on both ends. Not sure what you mean by inbuilt GBIC, can you explain or link me to a web page with a description? Thank you

Out of curiosity, is there anything free IP cameras software in the market place?