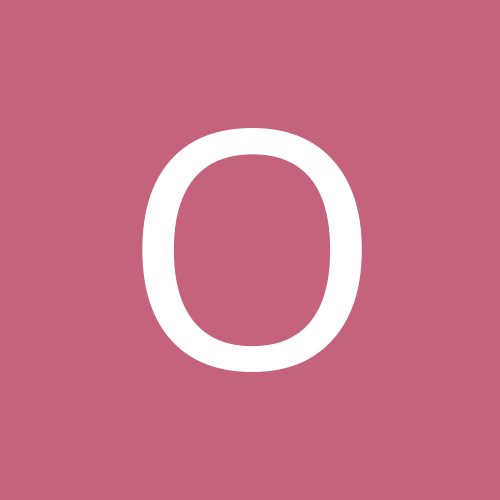 Content Count

73

Joined

Last visited
Everything posted by oderus1671
has anyone dealt with these folks? ive come across a few deals on some Effio cams from them, 700 tvl, bullet style, with 72 ir pcs. just wondering if this company is ok to buy some budget cams from, or if i should stay away. i understand the whole "you get what you pay for" moniker, im just really strapped for $$$ and need to replace some aging b/w 420 tvl 12 pc ir bullet cams. thanks, and sorry in advance if they are not legit posting here!

im looking at the DS-7208HGHI-SH dvr and the DS-2CE16C5T-IT1/3 cameras which have an osd menu. do i access the osd through the dvr itself, or is there a need to purchase an utc controller to change the camera settings? thanks!

ok, so if i go with all hikvision equipment, theres no need to buy an utc controller then? thanks for the replies!

can anyone give a recommendation on a decent quality power supply to power up to 8 cameras? the cameras will all have ir. i currently have one of those cheapy 8 port pigtail numbers, but over the years i suspect it to be partially responsible for picture noise. when i bought it years ago, i was seriously uneducated on cctv. after googling the model number on it, turns out its actually a power supply to charge electric scooters! :0 so can anyone educate me a bit on good power supplies? thanks!

will the SAV9D meet my current needs? i want to run 5 hikvision cameras with it, all with ir and hdtvi 720p. tnanks!

ive seen a pretty good deal on one of their 8 channel hdtvi dvrs online, and the reviews say pretty good. has anyone have any experience with their stuff? i can only hope for anyones brutal honest opinions so i avoid buying junk! thanks!

hey all, I have settled on buying a HDTVI dvr with 8 channels. I know hikvision seems to be the most recommended here, but I cant seem to find any stock from authorized distributors here in the states,even after searching hik's authorized site. are there any other brands/manufacturers that have good quality dvrs? I would need good support, mostly because the networking functions of cctv are what I suck at the most. So the qr scan options of the boxed diy kits is appealing. I dont necessarily NEED a boxed kit as I have pretty good coax and 2 hikvision analogs I want to keep, but Im open to the idea. I will probably use my existing cams to start, then add more hd cams as funds allow. No real budget yet, but I dont need super high end! Ive been googling till my eyes pop out, and just get more confused. Can anyone suggest a good dvr that's not grey market and not shipped from half way across the world? thanks!

i went to the website and searched the authorized distributors websites and most dont even have any hikvision products listed!!

im looking to upgrade my old analog system, and heard of tribrids. these would be perfect for me as i have two new hikvision analogs that i want to keep, and five old b/w cameras that i want to replace. i would like to move up to hd eventually. what are some nice tribrid dvrs that are dependable and relatively cost effective? no real budget as of yet. thanks!

is there anyone out there????

I have a VideoSecu 9 port power supply, and it only provides .55 amps per channel. Can I combine 2 channels to increase the amperage? Reason for asking is I just purchased 2 Hikvision DS-2CE16C2N-IT3 analogs, and when the Ir kicks on, it turns off and on, Im assuming the power supply cant handle the IRs. I plugged them into my old single power supply rated for 5 amps and they worked fine. Its not a very good power supply, so i dont want to continue using it too long. Also, I am looking to clean up the images, they are extremely jagged and 'rough' for a 720tvl camera. They are on older but good siamese coax. Im hoping giving the cameras more juice will help. Thanks!

thanks, i'll try this tonite after work.

do i just use one leg from two channels to make the connection? ie. use positive from channel 1 and negative from channel 2? thanks!

thanks jazzar, I don't have any way to measure voltage at the camera, but I will say the DC male end pigtails I got for the power supply did seem a bit thin. (no real specs on the gauge wire when purchased.) they seem like they may be 24 gauge. The DC line on my cables going to the cams are 18/2. Could it be the pigtails choking out power to the camera and not the power supply itself? The cables going to the cameras are 100' siamese. Thanks!

any ideas on a model number that will supply at least 1.5 amps per channel? my current one only can supply .55 amps.

heres a snapshot of one of the cams in question.

well, i purchased 2 of these, and i have to say the SmartIr feature is great. night images are awsome, but the daytime image sucks at best. the images sre extremely jagged. color is good and accurate, but from a 720 tvl 1.3 mp camera, i expected better. anyone recommend a good ir analog camera thats better in the same price range? (sub-$100)

Has anyone here had any real world experience with these? Im curious how the night time image is and color accuracy. Found them online at a decent price ($65). They will be paired up to a nv5000 dvr pc. Thanks!

as the title implies, and from a previous post, i am needing to update my old b/w cameras. they run on a pc based dvr card(nv5000) and have good coax siamese run. i cant justify running new cables, so what would be the best camera technology for coax? to my knowledge, i know i wont be able to have the latest greatest tech, and there seems to be a lot of different types of analog cameras out there. i just cant tell whats good or not anymore! thanks!

thanks firefighter, sure id love to know your source. does your hik cameras have the picadis sensor? im kinda curious how they perform both day and night. also does your cameras have the smart IR array or individual leds? Curious to know how they perform as well. thanks !

any thoughts on this system? http://www.amazon.com/gp/aw/d/B00R3QLGNO?qid=1420887418&sr=8-1&vs=1 it is from amcrest. their warranty is through Foscam. are the reputable? this would definely be an upgrade to the dinosaurs hanging from the eaves of the house.

i feel kinda dumb asking this but have to. will having an nvr hooked up in my house affect my internet/network speeds? about 2 years ago our very rural neighborhood was "blessed" to finally get dsl thru the telco, so all the speed i can get is 1.5 meg down, 512k up. will an nvr on my home network slow me down? i have a small network, mostly wifi phones, laptops, and a printer. if going the nvr route, i would need remote access to it as well. thanks ya'll!