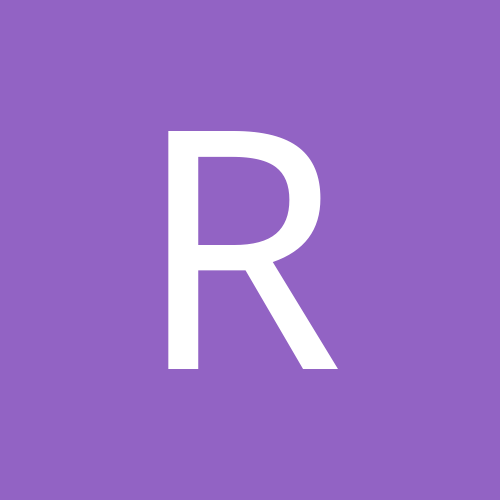 Content Count

14

Joined

Last visited
Community Reputation
0
Neutral
I would have no clue where to buy a netvision dvr card and how it compares (pricewise and featurewise) with a hikvision or geovision card Hey Dudu, Like the idea of this netvision myself - but it all seems verrrry vague. Best kept secret in business?...... or just supplied to the pros? Rocket.

Nimrod, have re sent message. Think i will look over individual components again too. Thanks. Rocket.

Nimrod, Sent you a message with the links to the system i am writing about. Just to add to the confusion - and before i place the order - Was going to buy a Dahua dvr ( model no.DH1608 ), have them fit a 500gb hard drive, then purchase the other components seperately. Being new to all this.. the power supply confused me. Saw three types - a) A box which appears that it would need to be hard wired to power, then plug in the cameras b) 2X power supplies each with a one into four cable, which is then plugged into existing power points c) individual smaller adapter type power supplies which would then need 8 power points - one for each camera. The kit i am considering has the two power supplies with the 1 into 4 cables thus requring 2 power points only. Is this the best way to go? I know i am showing my inexperience here. Comments? Rocket.

Thanks for the tips fellas. Have spent many hours scouring this forum this week in a bid to do some learning - but confusion reigns. Current thoughts are that the IP camera system may be overkill for a newbie. Have read a few posts suggesting the IP system may be expensive to operate as far as power usage is concerned. Perhaps analogue cameras ARE the way to go. Have decided to go with an 8 channel system from China in the short term so that i can get something up quickly. Worried about the cars in the garage and on the driveway. Maybe just the presence of the cameras will be better than nothing as a starting point. The system has a DH1708 ( Dahua? ) DVR, 1/3 Sony CCD 540TVL Waterproof CamerasX3 and 5 Waterproof Dome Cameras. My reasoning for buying a system is to obtain all required components to kick things off to get things up and running. Hoping for a reasonable picture. At a total cost of just under $700 i am prepared to test the waters with it. May puchase a few of the Sony Effio E cameras as the weeks go by and try them out as well. Will hit the buy it now button in the morning, so should have it up and running in a week or so. Rocket.

Hi cctvinstallers, I have been checking out the worldwide Ebay sites and came across a couple of chinese systems that may or may not be any good. Might pay you to check out alibaba.com also. Have seen some posts where it is suggested that Taiwan has a couple of good cctv suppliers. You can specify Taiwan in an alibaba.com search. I am new to all this myself, and after many hours of research - but no practical experience yet, it would seem that the Axis range might be good quality at a reasonable price. It is all a bit daunting for us newbies. Good luck with your new business. Rocket.

I scoff at you! VB is a real mans beer? More like the dregs of all the nights beer thats been spilled etc and then all been put back into a vat to be re-served! Where abouts in Aus are you? Hi Campbell, I realised you were from New South wales soon as i read your opening comment. Pity you guys don`t know a good beer from a bottle of lemonade. Have to admit though, best glass of beer i ever had was in a leagues club at Paramatta - but it was carlton draught. The Tooheys New was not a bad drop either. Special occasions however call for Crown Lager. Think i am showing my Melbourne heritage. Located in Adelaide, South Australia. Been stuck here for over 30 years now, but always consider that i will retun to Melbourne at some stage. LOL! Thanks for posting. Rocket.

Hi mike_va, Just had a look at the Aesecurity Website. The price of the Honeywell Vist 20p is certainly very reasonable, in fact very low. In Australia we always seem to get screwed over on prices compared to what you guys in the USA pay. The components for the alarm i am buying locally is about $975 and that does not include the glass-break sensors or installation. Wonder if the USA alarms can be used in Australia. Not sure about .gov standards requirements or power. In Australia we use 240volt, but i believe you use 110 volt? how would that affect an alarm system? Our garage doors are sliding doors and only ever unlocked when i am in there, but will fit reed switches to them. Rocket.

Hi Birdman Adam, Looks to be excellent advice. Will heed your advice about the motion detection. Thanks. Especially like the idea of the glass - break detectors. Not so sure about the door contacts, as my main doors are normally left open and we rely on the triple locks of the security screen doors. Also have a pet flap for the little dog mounted in the security door. Although i guess reed switches could just as easily be fitted to the security doors? Rocket.

Hi Win, How ya goin mate. Fellow newbie here, trying to get my head around this stuff too. You getting in before the event, or after the SHTF like me? What are you looking for in a cctv system? Rocket.

Yeah right.... if only i could afford Mobotix cameras. Always been a battler, but we have a family business which has taken many years to build up, and has provided my dream car or two, but we only draw an average wage each week - probably live on a lot less than you guys. Hence the need to build my own security camera system. Even have to do the fences on my own, getting too old for that. Oh... we don`t drink Fosters over here. Prefer a nice drop or two of Victoria Bitter. Now that is a real man`s beer Rocket.

Hi Nimrod, appreciate your reply. Was really talking in a more general sense eg which cameras and operating system - DVR or Computer Card to obtain images similar to the below photos - Photo by "The Wire Guys" on this Forum and these 2 photos from member Code4 on this forum - Hope it is OK to use the photos from this Forum. Please let me know if i should not use them, because i can delete them if required. To attempt to answer your questions - One outdoor camera in full sun for most of the day - no shade, quite dark at night, but have security lights. Another couple of outdoor cameras under porch and one in afternoon shade. Indoor cameras - probably dome type in 4 rooms. Reasonable face features required, but no need to go overboard. Lighting inside house during the daytime is average. Intend to buy a camera every couple of weeks as funds become available. Garage outside camera and also one inside the garage to start with - then build the system up as time and money permits. Do not want cheap and nasty. Expect each outdoor camera to cost maybe 4-500, and indoors around 2-300, but of course i will need to plan in advance and start with the correct operating system. Is this a bit better info? Thanks, Rocket.

Hi fellas, quick question from an enthusiastic - but ignorant newbie. Intend to build up a home camera system comprising of 4 indoor and 4 outdoor cameras. Intend to buy reasonably good quality cameras. From what i have read so far, seems the ACTi ACM 1231 is a pretty good outdoor camera. I believe this is an IP Megapixel camera. If i was to buy this unit - which operating system is best? DVR or Computer card? Would like to view the home setup during the day on the work computer. Also which type of indoor camera would be compatible? Sorry if the answer is obvious. Thanks in advance. Rocket.

Hi Soundy, Thanks for your warm welcome. No rust in this Mustang. Imported it from the dry state of Arizona, then took it back to bare metal for a full respray. Do have another one that is a Fred Flinstone car. Bought that one from Missouri - big mistake! Rocket

Hi everyone, Newbie Rod here from Australia. Went outside one morning a couple of weeks ago and found the padbolt on my garage had been cut, padlock removed and garage broken into. Buggers pinched my lawnmower and some power tools. A sinking feeling set in immediately. Not only about the lawnmower or tools,or just the fact i had a break in , but because this car was parked in there - My pride and joy 69 Mustang Grande Coupe - Fortunately they never touched the car, but knowing that the thieving scum know it is there has caused paranoia to set in. Yes- i should have secured the premises better. They entered the property by hopping over the front fence, which has now been replaced on that side of the house by a 9ft high fence. Have researched Alarms and about to have a Bosch Solution16 installed, including a sensor in the garage. Also want to learn all about motion detector camera systems which is how i came across this exceptionally good forum. Bit confused about different cameras and recording systems at the moment, so hope you do not mind if i ask some questions on the forums as i go through the learning curve. Rocket.