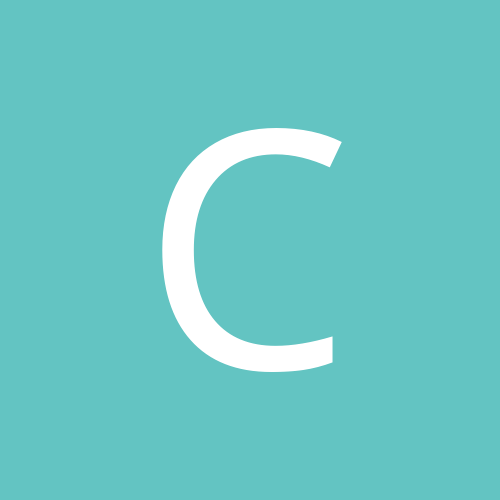 Content Count

122

Joined

Last visited
Everything posted by cctvron
Go with a JVC TK-C920UA Easy/Day Night Super Lo Lux 535 TVL in Color. Use that with a Rainbow L212AVDC4PIR 2.6-12mm aspheric verifocal 4 pin IR Lens. If you use an IR Lens your picture will more than likely be much crisper when the camera goes to b/w. I know it is with the rainbow lens on JVC camera. I've Done it.

No Prob. Where are you located?

Use a maglock. If he wants to open the gate from inside his house put a button with timer relay in. Only 1 leg of power for the maglock will go through the button. When he pushes the button the timer takes over. You can usually set these timers from 1 second to 2 or 3 minutes. I would recommend no more than 30 seconds. doesn't sound like much but it is a long time. If he wants to be able to unlock the gate outside put another button with 1 leg of power going through it. Either button he pushes will break power to the maglock. Depending on the size of the conductor. 18/2 I hope It should work. 30 feet isn't that far. Make sure you use surge protection. Seeing that your running the wire to a metal fence/gate and back in the house. The 2 conductor should work. All you need for the lock is pos+ and Neg- Voltage if it is D.C. Lock. Shouldn't be more than 24v. Remember the pressing either 1 of the buttons will unlock the maglock.

Rory, Same guy I've been telling you about is the Rep for Altronix and EMI. John Caglionone. www.4ademo.com to find his contact info. He can help you out on where to find them.

Herm, Contact Keyscan at 1888keyscan. They will hook you up with the rep in your territory. Rory, Contact the rep I told you about in South Florida. I believe he may be able to cover you if your buying from Distribution in South Florida. I will call him on monday. If you want pm me your contact info and I can have him contact you. I will be at ISC West We will be demoing Keyscan as well as a list of other products. Everything I rep is at www.4ademo.com

JVC TK-C205U This is a High Res 535 lines Dome with smoked cover. Best picture I've seen in a long time. I've done shoot outs with it against other manufacturers and they didn't stand a chance. Thing is make sure you have a high res monitor to show it on. If not there's no point on getting high res cameras. Depending on where you are your distributor you may be able to keep the camera within your price range.

Bryan, I want you to contact a Rep I know that handles mississippi. His name is Michael Stewart. Go to www.4ademo.com click on find your rep. From here you can find him and all his contact info. He would gladly tell you about pro's and con's and what is out there. He is the Manufacturers Rep for many products some of which are access control systems. He will gladly schedule you in for a demo. Just give him a call.

I have used Iriscan the brand. I haven't tried anyothers. A4vision has the facial recognition readers.

With some manufacturers i.e. software house, Andover Controls, etc. You have to do all the programming in HTML. Sucks that you have to do so much work for a high end system. I've always told my customers that have mentioned those systems that there are two things about them. The good thing is, is that they are programmable. On the other hand, the bad thing is, is that they are programmable. A system like Keyscan covers everything you need from an access control system without having to do a bunch of programming. Who wants to write HTML for hours after wiring up the door? Personally I've installed both the Andover System and Keyscan. I don't ever want to install another system I have to write the programming for!

Rory, These install like a basic proximity reader pretty much. It depends what Biometric software you are going to run. The locks are just seriesed thru the access control system and power supply. When the access control system grants access it trips the relay and unlocks the door. Therefore, once the biometric reader gets a valid read, whether its a finger, eye, hand, face, etc. It grants access to the valid person and trips the relay.

Joe, I have actually used the back of my hand on a hand geometry reader and it has granted me access. I use to use it all the time for Time and Attendance. Unless the software or the reader has gotten better in the las 4 years, which I'm sure it has it shouldn't be a problem. 4 years ago I know I could do that. That was one of the reasons we replaced our Hand Geometry Reader with an Iris Scan Reader. I would much rather use the finger print reader. These are not as bulky either. Bioscrypt has a nice dual prox/fingerprint reader. If you are going to use proximity, I would recommend using smartcard technology. The readers are cheaper than standard prox but the cards are more expensive. 128 bit encryption. The added bonus is if the person doesn't have to use the smart card portion at first, but it is "Future Proof." Smart Card Proximity will not read on standard readers. Keyscan offers these readers and cards with the systems. You can also get the standard prox, but I always quote with the IClass smartcards and readers.

Has anyone had the luxury of working with Keyscan Access Control System?

I personally don't like the Hand Geometry readers. I'd rather go with Finger print or Iris Scan. There are also facial recognition readers but they still need some tweeking. The Hand Geometry reader is great for lets say Time and Attendance. Access Control No! When you can put your opposite hand upside down and still get a valid read? I don't like it...

One important thing I failed to mention DISASTER RECOVERY!!!

Keyscan 32,000 card holders per site. Unlimited number of sites via tcp/ip or dial-up modem, unlimited number of doors, disaster recovery. Any application from 1 to infinite number of doors, comes in 2 4 or 8 reader panels. 512 user groups; 256 time zones, 512 different schedules, 3 different holiday types; up to 64 holiday dates. Retains last 6000 transactions in activity memory buffer, monitors door forced open and door held open alarm conditions; monitors temporary cards with programmable date activation/expiration and/or usage countdown. Dual processors for enhanced system performance-panels operate during uploading and downloading of data; removable terminal blocks; individual reader terminal blocks; mix match access control units for optimum installation; simple jumper settings for most Wiegand protocols. This System is truly awesome, no need to program HTML; very easy to use go to www.keyscan.ca This system will integrate with many DVR's; Photobadging; schedule backups etc. The list goes on and on. OH Great pricing for a system that has this many features.

you can hook biometrics to just about any access control system. Not all but many... The only thing the access control system looks for is a weigand output. The seperate software for the biometrics is what stores the info for the Iris Scan or Finger print.

Does anyone have a picture of the connections for this speco camera? I've never used it before and I have a customer that wants them replaced. I haven't looked at the camera physically nor am I going to before placing the order for the replacement cameras. I know what he wants out of the camera. I just need to make sure the connections are the same....

Does anyone no of an access control forum similar to this one?

I haven't seen the Kalatel, but honestly. Even without seeing it I still think the Image Vault will be better. Go to http://www.image-vault.com/iv_demo.html you can do a live demo here.

I don't know a POS DVR that has the has the features of the Image Vault. I will admit that they still aren't quite there when it comes to compression, but the auditing features and multiple view of cameras and sync feature are very impressive. I LIKE IT!

I teach NBFAA approved courses for access control; cctv; etc.

That's what a good power supply does... It's the capacitors in the power supply which regulate the voltage.