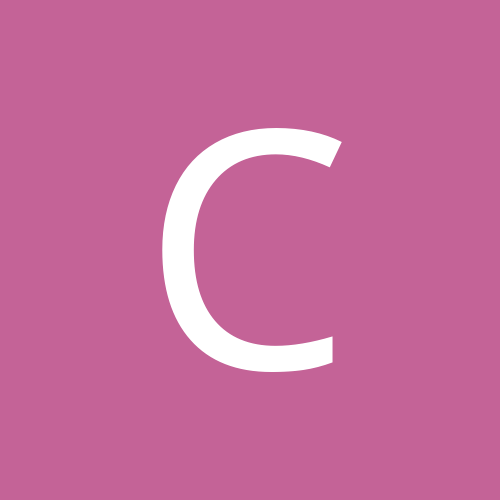 Content Count

28

Joined

Last visited
Community Reputation
0
Neutral
Seems like your way behind in your knowledge of some units. Sanyo's "buffer time" of retrieved video was an issue over 2 years ago. They have since changed their software and there is no more then 2 seconds buffer time to retrieve any stored video. The "Atari" system that you claim is installed in more casinos then almost any other DVR manufacturer in the country. I have installed almost 1,000 of their units myself and have had a TOTAL of only 4 come back in 14 months with hard drive failures. I have installed enterprise systems as well, but we are talking about 2 totally different systems. One of the main obstacles in Las Vegas is the "8-hour repair time" regulation which states ANY failure of a digital surveillance system must be repaired within 8 hours. Many of the casinos simply do not have a staff that is technically capable of repairing a higher-end system, let alone do it in 8 hours. Sanyo's casino DVR system is indeed a "transition technology" in the gaming market. It allows the casinos to exit the tape recorder world and enter the digital arena at a low cost that will pay for itself within a matter of a couple of years.

CCTVqueen - Are you my wife? I designed and installed dozens of large casino in Vegas and tribal applications. I have used Bosch, Pelco, AD, Honeywell, and Sanyo. Your comments regarding Sanyo's DSR-M810 being "grainy" cannot be accurate unless you have a problem with the install. While Sanyo's box is not as sexy and advanced as the enterprise systems, their picture quality is indeed FAR BETTER. In fact, you cannot even tell the difference between live and playback. Add in the low price, and it's a hard box for many casinos to pass up. As you probably already know, Sanyo has over 70 casinos installed with this unit. You may be referring to the DSR-M814 QUAD unit. Ask Brian James about it.

Sanyo has the DSR-M810 and DSR-M814 single-channel and four-channel digital recorders that work very well for this application. They have also added a new software package that is specifically designed for this market. It includes an archiving system that will store all audio, video, and paperwork from case files. Meaning, you could include video from the DVR, audio from multiple different sources (including hand-held devices), and even scanned paperwork all retrievable from the software. I have bid the system to a local jail and the price is considerably lower then other systems that do not offer as much.

Most manufacturers have already released official letters explaining this fact. You can request one from whatever manufacturer you buy through. It makes a great sales tool in upgrading to DVRs.

blowrabbit - as I stated in my last post, I have installed several of the Tiger units. I sent you a PM.

kandcorp - It is not just Sanyo, it is EVERY major manufacturer of tape recorders. This is not a choice, it's a demand placed by the EU and now followed in the states. There is a "hazardous" or "dangerous" materials as specified by the EU, and therefor, cannot be sold into the EU. The US followed along with the spec once it was obvious that the manufacturers were not going to reengineer their tape recorders. Again, ALL the major manufacturers have shut down their production. I believe the deadline in Europe is 2006 (cease all manufacturing) and the US is late 2006.

kandcorp - It's not only true, it's already happened. Ask you manufacturer of tape recorders if you are hesitant in believing if this information is accurate. I am looking at a latter from Sanyo who specifies that their inventory will only last them until about February.

All of the major manufacturers of tape recorders have already ceased the production of tape recorders, including the units used in the CCTV market. Due to the strict component (hazardous materials) demands placed by the EU and now followed by the United States, tape recorders will be extinct within the next 6 months from all the major manufacturers. One of the largest suppliers of tape recorders in the CCTV market (Sanyo) is currently running on nothing but inventory which is rumored to run out by the begininng of 2006.

Securitymaster - IYou've got your Sanyo DVRs mixed up Sanyo's "Tiger" model is not approved in ANY of the regulated areas of the casino. The "Tiger" was never intended for that application. However, Sanyo's DSR-M800 series of DVRs are approved by all governing bodies within the gaming market. From what I heard, Sanyo's DSR-M800 digital recorders are in more casinos then any other manufacturer. The "Tiger" is much different then the Cheetah. It comes with 120fps and storage capabilities that exceed 1TB per bay. There is also an additional storage device, and free "Spider" software that is able to effectively link multiple sites through the software which can be user customized. The bottom line is that the "Tiger" is one of the closest embedded boxes I have seen to an enterprise system. I'll take the Sanyo DVRs over GE any day of the week and twice on Sundays. I purchased and installed my 60th multi-channel Sanyo DVR in September and had a TOTAL of 2 failures between all of the 60 installs. One was a hard-drive failure and other was an easy fix with a firmware upgrade. The Sanyo regional sales manager even met me at the job site on a Saturday to make sure the firmware upgrade solved the issue. I installed 78 GE multi-channel DVRs last year and had a total of 21 failures. 9 of which required more then 3 visits to the site and several returns for repair. The assistance from GE during this time was horrible.

No manufacturer is willing to disclose their failure rates to customers. The only way of obtaining an accurate "failure rate" is by reviewing the information from their warranty repair department. This also means that DVRs that were not sent in are not calculated. However, after GE's aquisition of Kalatel, many "things" have happened and this type of information became readily available. Thus, DM had no issue releasing their failure rate considering it became common knowledge that their largest competitor was more then double. When GE landed the large Starbucks deal, their failure rate even exceeded the 8% mark. I agree that DM's customer service and support needs some work. They are heavily distribution based with the vast majority of their sales through ADI and the remainder through the larger distribution accounts such as NAV.

Your wrong rory, their are many DVRs that have a browser based utility that is pushed out from the DVR itself, meaning no software to install on your PC. GE's DVRs are easy to operate but horrible in the reliability department. GE's DVR failure rate in 2004 topped all the large manufacturers at a whopping 8%. Dedicated Micros, who sells just as many in the US, if not more, was a little more then 4%.

The "Tiger" is a nice machine. 120fps, built-in CDRW/DVD burner, built-in Compact Flash. It also has a Region of Interest (ROI) feature that I have seen in enterprise systems such as NICE. It gives you the ability to further compress other areas of the picture where picture quality is not needed. The unit then allocates a larger amount of picture quality to the selected "region of interest". The free software is very powerful. You now have the ability to use the advanced software that can "interlink" units from any location, or use the simple browser-based interface that does not require any software. Sanyo has really stepped it up. They also just released their first PTZ's. It has a 520-line Sanyo color camera in all PTZ configurations for LESS then Pelco, AD, and Ultrak.

The unit is sold. As of March, all I use are the Sanyo DVRs. Their new DSR-3716 "Cheetah" and DSR-5016 "Tiger" are very reliable DVRs. I have not had a single unit go bad in 45 installs. The new "Tiger" unit is black and has a CDRW/DVD built in and also has a new software (free) that is very elaborate. It has a very enterprise feel, but in an embedded box.

There is no difference as of today. Sanyo just released their new "Cheetah" and "Tiger" DVRs. Over the last 6 months, the 3506 used their newer platform while their 9 and 16 channel units were waiting to be sold off so that they can introduce the new "Cheetah" and "Tiger" DVRs. They now have the 6, 9, and 16 channel all of the same platform. Sanyo's new "Tiger" DVR with FREE "Spider" software is an excellent unit. Imagine a hybrid, PC-based system in an embedded box.

JPEG2000 is Wavelet. Sanyo has had JPEG2000 in some of their products for a few years now.