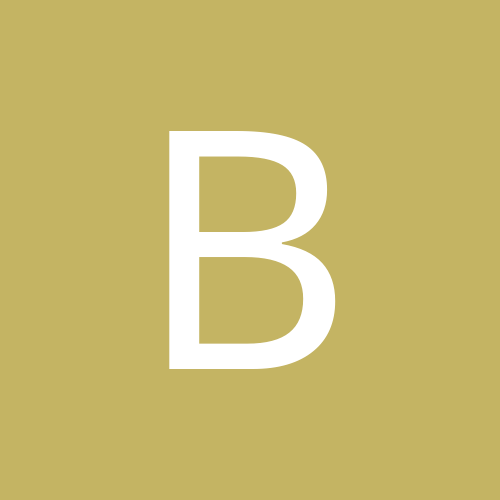 Content Count

264

Joined

Last visited
Everything posted by blowrabbit
I was told by ge support that a drive with more than 8 mb of cache wouldn't work. But I think it had 16mb of cache. I say I think as the seagate website gave conflcting data on the specific drive.

I recently installed 2 seagate 500gb ata ide HDD's in a 2005 GE DVRMe Pro. I was surprised that although it has a 16 mb cache it still works. Booted up fine as the drives were new and I love the 5 yr warranty on the drives. So yea, its got a terabyte, not bad for a couple hundred bucks. I had been told by support that the max was 8 mg ?

Would it help my remote viewing installations [by that i mean increase data flow for better picture] which currently run on a dsl line maybe 750 kb upload speeds, static ip, quest router/hub, to incorperate a "switcher" instead of using a hub ? and any specific model or unit ? ps. you know your over your head when you have a hard time putting the question into words.

regarding the issue with upgrading a Kalatel DVRME's hard drive...... the hard drive cannot have more than a 8mb buffer regardless of whether it's 5400 or 7200 rpm and whether or not you have the upgraded 7 amp external power supply or the older 5 amp. and its hard to find 300+ gb drives 8mb buffers.

I know from experiance that with the dvrme units you need to get the newer 7 amp external power supply to run the 4 drive units and also with 2 drive units if they are the higher 7200 rpm and if they are above 200gb each. As opposed to the older 5 amp ones. Your supposed to download something off the ge wavereader site to get them to work after install but.. i've had them work without that too. I have only used maxtor drives and that may be part of the success. funny the other day i installed 2/ 160 gb drives in a older phillips dvr which is a kalatel dsr2000 in essense, ran fine but it only reconized something like 137 gb per drive for a total of around 280 gb but was better than the 2/80 gb drives as before.

Does anyone know what is the max size HDD's you can put into a circu 2002 phillips dvr with currently 2/ 80 gb drives ? I know that these units where basicly kalatel units so they would have been like the dsr2000 unit. At any rate i'd like to put in 2/ 160 drives ?? Any help is much appr.

Great options bud... but we, the dealers or the distributors, can not compete with what you buy from ebay... If zboyblue wants, why don't you help him to find one of these GE systems... and they are great systems for sure... When zboyblue stated his budget, GE model that you are referring to could not fall into that price range.. unless of course you find it in ebay... If you are so confident of your purchase, why don't you make zboyblue an offer to sell this GE model?... probably because i want it for myself.... sorry to ruffel your feathers. i dont have any vested interest in my advise ... i am not trying to sell anything just offered some help.

why not get a better unit like a ge dvrme which is usa built. it costs more new than the others but it gets you a better picture both live and for remote view. hook up an archiving dvse and you can add 2 tb to the system for months of recordings. new these units are costly but you can any day of the week get a used one off ebay (be carefull and buy from 100%positive feedback sellers) for a fraction of the new price. buy only from those who guarantee the unit is working properly. hell, i just got a dvrme pro 10 channel cdrw 320 gb for 1/3rd the wholesale price. get back on ebay find 2/ 320gb drives and you got a 640 gb unit for another $175.00

And does it remotely view better ..... any thoughts?

So Rory, I assume this guy is mistaken regarding the 320x240, and I assume that the dvrme's you've got in the field record at vga or 2cif?

Is that considered 2cif? and is this more a consideration of size than quality?

I would think whether or not your going to want to view it remotely might be a large concern? And if so you might want to check out the GE dvrme, which is not cheep but very reliable and excelent for remotely viewing.

"(some may have Linux, others FAT, others NTFS). What format is used on your DVR?" I ask this question as my provider for 250gb maxtor 5400 rpm hdds is asking me this question, in regards to preparing them for my use in a ge dvrme? any help is greatly appr.

can you take a loop out of a ge cbt mux and from the video out have that 4 channel picture loop into a single channel on a dvrme? this is in regards to remote view so when you brought the picture up one of the pictures would be divided into four little pictures? hope this makes sense?

given the quality of cams why would he want the cheepest dvr??? kinda wasting the ability and price of the cams.

I think that particular Panasonic unit records only in cif.... you would want the new version the one with the letter T in it. Have you seen the sanyo unit ? isnt that the Tiger, if so its preety good. Not to mention the fact that pano's dvr's are anything but user friendly.

shall we call this hawking their products?

I notice a lot of asian posters here dont really have a grasp of the language we speak here. The majority of the time its those who are trying to sell us something. If you cannot correctly speak english I really doubt you'll sell much of anything here. Just pointing out the ovious. although I am not so sure of my spelling ?

heck, the newer GE cameras are made in China or Twain. and they are ok but dont look like the Panasonic cams from Japan. and arent the bosch cameras made in portugal?

password is 3477 by default for installer .... factory defaults are 8111 and eithernet access is 1111. If you have changed the installer password and forgot it you must send it back to Kalatel.

i have some refurbished 5400 rpm maxtor ide 160gb hdd's for sale if your interested.

I wouldnt say fussy, I just dont see any real difference in the pictures?

I dont see any significant difference. I assume this is a live shot not playback as you wont get much on playback on the symdec-4 unless you have a couple of megs upload speed at the site regarding remote view.

does the manufactors specific brand of hub affect performance of a remote view for cctv purposes ? this is when more than one devise is being used thru the router on a dsl line for again remote observation ? any help is appriecated.

Rory, pm me with a price if you have one. I quess they dont make these anymore nor do they work on them. [GE that is]. But I have one with a motherboard going out and could use one. The ones I bought usually were from e-bay and therefore cheep.