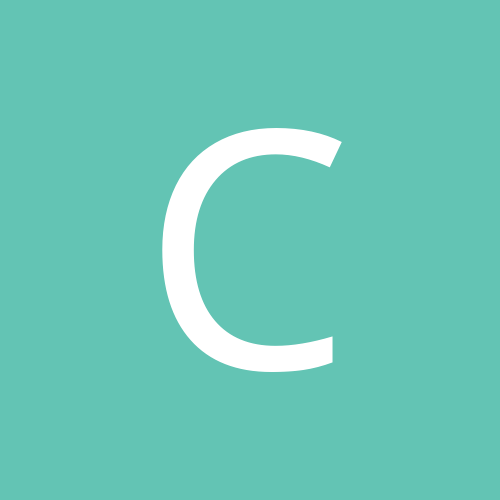 Content Count

394

Joined

Last visited
Everything posted by crirvine
This is just to let you know NFPA states any life safety device shall work as a life safety device with that said if it looks like a smoke detector then it has to work as a smoke detector. Which means if you put it up you are the responsible party in case a fire.

I am running 100mb constant data stream using wireless built for video back haul not some built for home use wireless equipment this is all on a 75 acre plot of land.

Mikrotek cloudcore routers 12 1GB ports Signamax managed 24 port poe switches CAT 6 backbones CAT 5 to cameras All do the same as CISCO at a lot less cost but you have to learn the Router as it is not programmed out of the box. Not just a lage fan of Ubiquiti equipment yet.

Small home office AP wireless routers even g and n are rated at data burst not a constant data stream 802g will only run about 6mb constant done been there and tested this.

I use managed POE switches and High End Routers Firewalls. With this setup I see data per port tx rx. Running this setup with a 90 camera IP system feeding my servers with a 300MB plus data stream. Try getting that out of your small home office routers and switches.

Yes you need a license to work as a CCTV installer Burglar Alarm installer Fire Alarm installer Access Control installer. You are in violation of state law with a fine of up to $5,000.00 per violation. Here is the link http://www.state.tn.us/sos/rules/0090/0090-01.pdf You also have to have a Shelby County low voltage license to pull low voltage wire in Memphis and Shelby County.

Goodluck by the way you might want to check in to the laws in your state. You have to be a licensed cctv installer in our state as in most states doing work in this field in those states can cost you large fines. Also Axis Camera Station (which I have tried in our shop is very limited and not a very user friendley) As stated above PTZ cameras are good for use in live viewing the size building you are looking at cover all exits with cameras and all high dollar vallue areas sounds like you need a pro install.

I found onssi very power hungry and very unstable switched the system over to Video Insight and have had no problems. ONNSI ties lic# to mac address you loose a camera pain to swap over the weekend in a mission critical setting. Video Insight you buy cam lic#'s not tied to mac address just delete and remove bad camera put up new one add to system no problems 48 camera system with 5 are Axis ptzs no problem controlling.

Digimerge has a MAC compatable standalone DVR. You might look into them.

Soundy the AHJ might want the control panel and power supply covered by smoke detectors due to it being part of the fire system now also. I would call the AHJ and alarm contractor to make sure all bases are covered.

Have you looked at the poer supply with a volt meter or have you used an oscilloscope and looked for ripple voltage. Filter capacitor leaks will not show up on a volt meter also POE works great.

I see said the blind man sorry

Sounds like a trashy POE power supply and how long is the run of cat 5 if it is over 300 feet you are lucky to see anything. Site planning folks not all cameras are equal 221 low light 210 bright light. backlight setting outdoor light indoor light shutter speed ect. Did you install this system the first time what standard pin out did you use for rj45?

wooooo nelly Post subject: Forum Posting Guidelines - Please read before postingPosted: Sun Oct 16, 2005 12:34 pm Moderator Joined: Oct 2003 Posts: 343 Warning. Your postings on this public forum will become public. The basic ground rules for discussions on CCTV Forum are simple: Have fun. Be Polite. Be Respectful. Be Professional. Use Common Sense. Don't Break the Law. Failure to use common sense resulting in impolite, disresectful, unprofessional, or illegal behavior may result in your account being suspended immediately, or any other action solely at the descretion of forum administrators and/or moderators. Members are permitted a maximum of one account per person, no exceptions. Please do not use this forums resources to promote other forums/communities of any type. Please do not post in any language other than English. Since this is a Public forum, any replies of "PM Sent" or similiar; may be edited or removed, since all members can not read the reply. Advertisements and/or solicitations should only be conducted offline (email or PM's at invitation only). In other words, please do not conduct business in public forum posts. Any post of an obvious business nature will be removed by the moderators at our discretion. Please do not send mass PM's to the memberlist advertising your products or services. Repeated offenses will lead to banning without warning. Also Retailers/Manufactures are not allowed to post their own urls in replies or direct members to their site(s). Signatures are not for advertising. Please keep them a reasonable length and free of advertisements and images. Affiliate links within signatures or posts are not permitted. As a courtesy to our advertisers, please do not post links when recommending products; just post the recommended products name/model number etc.. Ofcourse, we encourage a search of our advertisers sites first for any recommended products mentioned in threads Please refrain from posting special prices available only to dealers or installers in our forums. When in doubt, post the MSRP. Out of respect for bandwidth and other technical concerns, we also ask that you please keep signatures a reasonable length and image free. In light of our policy of encouraging candid, open exchanges of views and the rapid distribution of information originating from many sources, CCTV Forum cannot determine the accuracy of information that may be posted to the Forums. Opinions, advice and all other information expressed by participants in discussions are those of the author. You rely on such information at your own risk. Participants are urged to seek professional advice for specific, individual situations and not rely solely on advice or opinions given in the discussions. That's all folks, get back to posting and reading

1. Hollywood movies. 2. If you edit the video courts can not use it as unedited no use to courts. 3. Put system in right in the 1st place (pro install) not cut rate. 4. Pro equipment not costco or sams 699.00 special.

Suky the sales girl up to sale tricks again

Soundy is right but your local AHJ might want fire panel to control the door not just smoke detector as it would also have to function as a life safety device as per nfpa 72 and nfpa 101 codes or you could just use a motion rex mounted above the door to trip the rex input of the access control system this option would also make your AHJ happy also.

You can record on 2 drives at the same time if you use raid hardware controller and mirror the drives. You can get a good controller 4 1tb drives and make 2 2tb patitions and mirror them. Problem solved 300.00 raid controller and 400.00 hard drives 700.00 project.

I have a customer wanting bids and has been told from another dealer that they sell a dvr that sends a e-mail every day that the dvr is ok and also sends e-mails for errors 16 channel 8 channel and 4 channel anybody know the brand and model number that will do this.

Thanks we have looked and what we have seen they e-mail errors but they do nothing if everything is ok.

Thanks mods the junk peddlers are getting out of control here. Now I agree with soundy not all systems are good for all places it has to be built around what it is to cover and what you want in a system.

Well in my state Tn a computer tech is not a state lic cctv tech also oem os support is furnised by the builder so we control software and hardware.

ONSSI NETDVMS server software as this job will grow 50 or more cameras in the next exspansion. We can run another server without buying a new server key just camera keys. This is why the over build with all the high end hardware cat 6 router managed POE's.

Do you anything about networks? Most all top line IP cameras will run on POE switches. Build your own network do not use the customers network. No home routers will not handle the data traffic that 30 IP cameras use managed POE switches so you can see the loads at 50 IP cameras we over built the server 2 nics 16 gig ram 20 tb storage 6 port 1gig small backbone router cat 6 wire 2 52 inch video walls 3 viewing stations. IP solutions are not for beginners go to IP schools learn networking. 5 good IP cameras will swamp home routers and will not pass all the video. THIS WILL NOT BE A CHEAP SYSTEM.