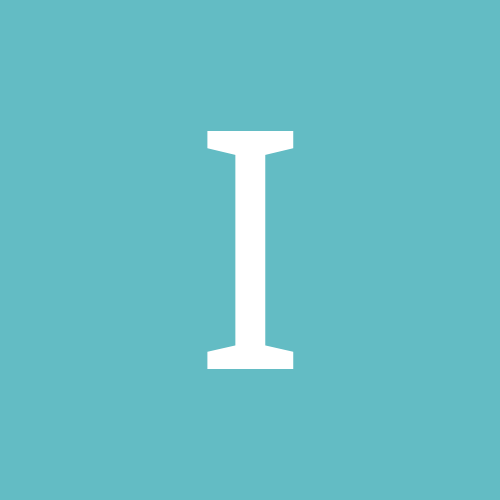 Content Count

44

Joined

Last visited
Community Reputation
0
Neutral
**UPDATE** CCTVIMPORTS - Just Called me --- I spoke with a Very nice lady named Heidi (everyone at this company has always been nice) ... She was MORE THAN helpful and was willing to do whatever necessary to correct the problem. Very glad they called --- It really does make things better, and it's like someone said earlier ... things could have been worse! I appreciate everyones input and suggestions ... Thanks again! **UPDATE**

Rory, NO ... I MADE 100% SURE I went step by step and told the technician what steps to take to reveal the failure with the cameras ... He actually to me he "Put them in a box" for the amount of time it took for the cameras to "Shutdown" and reveal the same EXACT problem I was having ... So , YES, he did confirm the SAME problem I was having with some of his cameras off of the shelf ... As well as, Telling me that he "MADE SURE" the two I was being shipped were free of this problem ...

Thanks Jasper ... Exactly the spot I am in ... Really having to pull my sleeves up to keep these people waiting ... It just amazes me everytime I go looking for a decent deal and or supplier --- it's one thing after another ... That is why I am VERY tempted to just throw mine towards a large container and import the hell out of inventory! And maybe .... Here is a thought ... TEST - BEFORE I SELL THE PRODUCT TO THE END USER ~!!! That would be just too customer friendly wouldn't it ??? Why that might even mean people would get what they ordered on time and ACTUALLY BE ABLE TO USE IT WHEN THEY NEEDED IT ?!?!? Hey, They might Even COME BACK FOR MORE ?!?!? --- (Excuse my sarcasm - just too good to be true unless I do it myself)

Rory, Yes, I see what you mean ... Doesn't do any good though ... Bad deal to begin with I guess ... Thanks anyways.

Trust me ... I WISH it were somethinig I was doing wrong or that i could FIX --- I could probably save my INSTALL JOB !!!! BUT --- I can only HOPE they understand I have been sent YET ANOTHER set of BAD cameras ... This $%@$# really bites ... I am REALLY leaning towards importing from the people I have been negotiating with in Shenzhen ... It would be worth the extra steps to have hardware on the shelf & ready-to-go ...

Rory, This is the model 9100ex --- you can find it at cctvimports.com ... It is a Sony 1/3 Ex-view chip Day/Night camera ... check it out ... it is an Ex-view camera for sure ... It is a knock off of The Speco day/night cam ... I would dare to say Pro-video ... but it doesn't say either brand ... BUT- it is IDENTICAL to the SPECO HT-7815DNV --- Although this camera (the one I have) does not say any brand names on it ... it DOES -- 100% for sure have an MECHANICAL IR filter and a HEATER -- and LOOKS identical to the speco model ... It ALSO has EXACT same specs as the Speco model ... So I do know for sure it is a TRUE -- Day/NIGHT IR Camera with the MECHANICAL filter ... BUT --- I have already confirmed all of this and researched it FULLY ... I justt want 2 of them that are going to WORK THE WAY THEY SHOULD --- without having to worry if they will crap out on me because of some voltage problem I knew about to begin with ... ya know ???

I just wanted 2 darn cameras that would work on 12v as stated!!! I REALLY wanted them after sending the first 2 BACK!!! DARNIT! M fear is that if I go ahead and use them with 24v ... that obviously SOMETHING is wrong in the voltage circuitry and ONE DAY down the road - they will go out and then I will be stuck !!! --- So , I fear a bad design right now if it doesn't work as it should with BOTH voltages ... I sure don't wanna climb back up the poles and replace them 12 months from now !!! especiially if there is something - not quite right with them to begin with --- Ya know ?!?!?

Hello Rory, Thanks for your reply ... I have tested quite a few other 12v supplies for this ... Including the 3 - 12vdc REGULATED supplies I received from them ( 500ma, 1000ma, 1.7ma) ... VST man runs this camera on 500ma 12vdc and has no problems ... it helped to know it wasnt my power supplies. It is a bad batch of cameras ... Even their Tech at the company confirmed it with the cameras he tested , they told me they never had the problem before with this camera - Which I believe per VST_Man... but there is now a confirmed problem ... --- lucky me!!!

**UPDATE 12-22-05** CCTVIMPORTS - Just Called me --- I spoke with a Very nice lady named Heidi (everyone at this company has always been nice) ... She was MORE THAN helpful and was willing to do whatever necessary to correct the problem. Very glad they called --- It really does make things better, and it's like someone said earlier ... things could have been worse! I appreciate everyones input and suggestions ... Thanks again! **UPDATE 12-22-05** I recently posted a problem with 2 cameras I received from cctvimports.com earlier this week ... Little did I know ,I removed it too soon from the forum... I orginally ordered 2 of the 9100ex - 1/3 Sony Ex-view Day/Night cams from cctvimports.com along with several other goodies for an install I had scheduled EARLY this week... All I have to say is now I am GLAD I tested them before installing!!! *** **WAIT*** - I first need to mention that I placed this order via their website ... After waiting a couple of days I decided to call and check the status of my order - only to find out that they had *NO RECORD* of it ... I had an email confirmation order # from them, a total, and I had paid via Credit card!!! Even after providing this information - They still had NO record, good thing I CALLED!!!! - Little did I know, that was only the start of problems... ALSO - QUICK NOTE - THIS WAS MY *FIRST* Order with cctvimports.com *** Turns out ,**BOTH** 9100ex model cams would shutdown after 10-15 minutes usage while in IR - NIGHT mode ... like they were overheating or something because of the IR lamps ---- I could unplug and wait 5 or so minutes -- then reconnect and repeat the same problem ... HOWEVER -- When I powered these cameras using 12v without the IR's coming on ... there was no problem whatsoever .. ALSO, If I powered with 24v - there were no problems at all - day or night mode. So, here I had 2 cameras that would operate in 12v or 24v in DAY mode - BUT - when the IR Lamps came on for longer than 15 minutes in NIGHT MODE using 12v - they would shutdown, only 1 lamp would be lit and camera would loose video output all together (like a protection mode or something) - BUT - GOOD FLIP SIDE OF THIS - 24v Day or night IR mode everything worked GREAT ... so I was stuck with using 24v which I HAD NOT PLANNED ON USING PER THIS INSTALL!!! Ok ... I figured no problem, will call them Monday morning and swap out for new FULLY TESTED units ... well ... I spoke with their technician JOHN and slowly explained EVERYTHING to him - step by step , all the different tests I had run to help determine the problem (used different power supplies, tried higher power settings as well, etc. etc. etc.) ... All I had was 1 SIMPLE REQUEST --- PLEASE test 2 and see if they were free of this problem ... to make a loooong story short (on top of me ALWAYS having to call them back) - John tested the cameras they had and CONFIRMED the same problem I was having with the cameras he had IN STOCK. After asking for an RMA#, I sent the 2 bad cams back via UPS RED- NEXT DAY AIR - *EARLY AM* -- cost me $68 ... !!! After explaining that I needed to get this resolved ASAP or else it would -- *now it will!!* -- cost me more!!!!! Now here we are, Today - I received 2 cameras - same model - that did EXACTLY the same thing as the first 2 ... Even AFTER being assured by their technician JOHN that he had FULLY tested and hand picked the ones he would send out for replacement ... Too make things worse, I had to PAY for 2 more of these cameras just to get them shipped that day IN HOPES of saving the install job I had lined up (I can semi-understand this - but Hell, I actually have established an Wholesaler account with this company -- and this was the best they could do *AFTER* they had originally LOST my order on their website & SENT Defective cameras ). FYI - My order still DOES NOT show up on their website to this day. Nothing worse than having to keep calling back the same person that said they would contact you -- even after you have expressed the importance of needing to know "Something" - "Anything?" ASAP ... Talk about a hood wink ... I guess I will call in the morning and BEG for 24v power supplies since the 12's I ordered with these models actually DO NOT work with the cameras ... TALK about a bad batch !!! Man , Ever feel like if it's gonna happen -- it will happen to you ?!?!? I have spoken with another member familiar with these cameras and runs them 12v - never had a problem ---- ... well guess what ,... BINGO !!!! ... Sorry to vent guys, BUT - I have been "Involved" with customer service/satisfaction from just about every angle you could imagine ... everything from working as a cashier at K-mart to becoming a Police Officer. The cause of the problem is history, it is the SOLUTION that is in the intrest of ALL parties involved. I stated EXACTLY what the problem was and the time frame it should occur in ... I mean, How hard could it be to do this simple task I ask before sending me a camera at $300 a pop ??? Not to mention, I am worried now that my CREDIT FOR RETURNING THE 2 Cameras will not be applied to my Credit Card as promised by John - he would take care of it "Personally". I used Visa, so I can get them involved if necessary. Guess I will just start importing everything from now on. Hello ShenZhen!!! DBA Computer Services Richard Sweat Lakeland, TN.

Our company has 10 reserve IP's on a T1 line - 2 of which already are in use. After setting up DVR system with software, I contacted our provider and told them to point the name to one of the 8 open IP's... The video server is connected through it's own firewall from a switch in place before our VPN. The firewall on the videoserver allows you to establish a private encrypted tunnel for the videoserver alone. No worries after doing it this way at all , much safer than port forwarding onto your existing network or placing it on DMZ, plus it isolates the video server from everything else. Another good point is that you can access it by name .... example : www.mycompany.videoserver.com Using the firewall will also enable access from certain IP's ONLY that you select and can be configured to BLOCK EVERYTHING ELSE ... 100% secure from outsiders ... not to mention the next hurdle of user ID & password to enable the tunnel.

I have been in contact with China based companies regarding different model DVR cards ... picking away at pricing & building a few DVR's ... No names or models mentioned to keep this quick and to the point ... I had to point out to a few - in a polite way - that I knew they were NOT the manufacture or developers of the cards as claimed - helped cut alot of the initial BS. Won't even bother to mention some of the @#$@ pricing / minimums they come up with at first. I had to lay into one of the self-proclaimed "Developers/Engineers" after he asked me to confirm who actually manufactured his card & software... to which his reply was: "as usual, it is popular for our customers whose country has copyright problem, and the software come with the card also update, we provide a clear software now, without any company name, any logo...and this software can also work with the same series card" I replied by pointing out 2 other cards he sells and identified the "Manufacturer" for him ... AND , I ALSO **STRONGLY** noted that all of these copyright problem boards came from HIS COUNTRY. I also identified the developer of the software he was using.

PROBLEM SOLVED - SEE ORIGINAL POST -- THANKS!!! Thanks Rory ... It is XP Pro with SP2 .... Everything is working great on this computer ... nothing in windows or hardware was changed to cause this problem ... it just happened. I have been running & using this PC for 6 months now and Diginet CENTER software has always worked great on it ... just cannot figure out what could have magically changed itself to make the camera displays go out of whack! ???

*UPDATE -- PROBLEM SOLVED - VIDEO DRIVERS - Uninstalled & Re-installed to earlier version* I did this one last time and it worked! THANKS!!! Looking for suggestions to this puzzling problem ... First off ... I am using Diginet Center version 4.13 Patch 8 software on my home PC to view cameras from Diginet Site ... EVERYTHING is working great and all is well until a few days ago ... I try to view any camera OR even search recorded video using Diginet Center software on this PC and all of the cameras seem to have the GAMMA and/or CONTRAST out of wack! I cannot get them back to their NORMAL look to save my life! was displaying PERFECT in everyway just 2 days ago! I have no idea what happened ... *BUT*, it is ONLY with the one PC I am using now ... I can goto work and load the Diginet Center up, connect ok and view all cameras PERFECTLY --- they all look great as they used to on my home PC ... I can even view all cameras perfectly from my sons computer here at the house on the same LAN using *ANY* version of the Center software. Web remote view still looks great also. It is almost like somehow the Contrast or GAMMA settings got out of whack in the Diginet CENTER software and saved it somewhere on this computer ... I have UNINSTALLED (double checking that everything was removed - folders - data files, etc.) the center software 4 or 5 times, even went into the registry and made sure I deleted the associated keys (keys I deleted were under the name of DVR in the registry) ... Also tried installing an older version of the center software and still didn't fix anything! I know for a fact it is something with the CENTER software on *THIS PC ONLY* and not server or hardware related ... Does anyone know what I might be missing ??? Color, Gamma & Contrast are wayyy out of whack! Only thing I am left guessing is that there is some entry somewhere that I need to delete, and then re-install CENTER software ... I have even re-installed my video drivers just to make sure, still no fix ... All other programs & forms of video , mpg's, avi's, etc. display fine on this computer ... It is just an issue with the Diginet CENTER software & This PC ... The display at the Diginet SITE is 100% Perfect - no problems there at all ... Thanks for any help in advance! *UPDATE -- PROBLEM SOLVED - VIDEO DRIVERS - Uninstalled & Re-installed to earlier version* I did this one last time and it worked! THANKS!!!

DO NOT - I REPEAT - DO NOT get any Cards off of Ebay (Unless you can verify one of the sellers are from THIS site) ... SO many things could go wrong .. you could get a DOA card ... Worst of all, NO SUPPORT (Which you WILL need), and more than likely - secondhand software wih NO manuals ... the list goes on & on ... Buy from these guys here ... and don't be afraid to ask anything!

Rory, I appreciate all of your VERY informative posts and the sharing of your knowledge on all CCTV products. I truly enjoy learning and working with CCTV products and wish that it were my everyday profession - like it is for you & most others. I Cannot even begin to thank you & everyone here enough... CHEERS - keep up the great work!