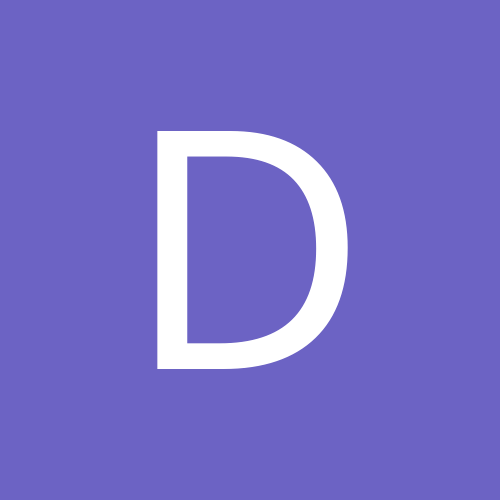 dopalgangr
Residential CCTV'er
Content Count

425

Joined

Last visited
Everything posted by dopalgangr
I realize this is very old thread. I have same issue with that camera and Im trying to figure out what the IP addy is. Does the NVR statically assign them to the cameras or are these cameras set to DHCP? Thanks ***disregard, the camera is not responding, not an IP issue

Most people these days have a NAT firewall on there network and will run into issues with it blocking the traffic for remote viewing, apps that need to use certain ports etc. So I just wanted to provide a site that I use that is free and it provides screen shot, etc for your specific router. Its (wont let me post the site) youknowwhatgoeshere "portforward" andhere Enjoy

I realize this is an old post. I do data recovery professionally and if interested shoot me a PM.

I did this and it worked for a little while but they are doing it again. I wish Dahua would send out the proper shrouds for that U1 sensor. I remember many years ago I purchased cheap cameras and they had a lot of IR backwash. I wrote the company and they sent out the shrouds that had a peel off tape to adhere them to the PCB. They worked on that great but the ones I made for the Dahua not so good. maybe they have shrunk from the heat and I need to redo them? Either way a total PITA. Good luck

What NVR are you using with them? Do all of the cameras do this? Does it do it if your viewing them live too or just during playback?

I have had several of these in service for over a year and all of a sudden all of the IRs on one cam are out. Anyway of testing these without me swapping them from another cam? Do the day/night sensors go bad? It seems odd that all the IRs just stopped working. Also, anyone know where to buy the replacement boards for this model? It's under warranty but shipping it from Maryland to China negates the worth of the part for me. Thanks.

Solved!! Make a shroud for the U1 sensor.

As Boogieman tried to point out, use any Outdoor IP camera with Powerline adapters (these provide network transmission over the electric lines). That setup will be the best video quality. Or get this and figure it out http://www.walmart.com/ip/23744954?wmlspartner=wmtlabs&adid=22222222222017595058&veh=sem

Don't know if it helps but you can still use IE in windows 10 with active X. Just don't use the Microsoft Edge crap. Open you window in Edge the click the drop down and select open in IE. Then I just made a shortcut for IE on my desktop and it works fine.

Hey Bruce, It would be easier to answer your question if we knew what brand/model camera and what weather software your using. Thanks.

Thanks Euly, I did try that and it didn't work either. I also have a Drobo-FS NAS but utilizing that option unfortunately ended with the same results. Thanks for all the help though.

I have both the Dahua 3300c and the 4300s cameras and have seen where people have used the cameras web interface to set up a FTP share and save the video on motion to that share. I have a router on the same network that allows you to attach a USB3 external hard drive and it makes it available on the network via a network, HTTP and FTP share. Below are pictures of the router page and the Dahua page, I have tried every combination and no luck. I must not be doing something correctly. If someone could help me through it I would greatly appreciate it. Thanks.

still no worky, bump for help

Did you ever figure this out? I have been trying to do the same on a Netgear with ReadyShare both as FTP and as a NAS with no luck. See this post here viewtopic.php?f=19&t=47658&p=277738&hilit=dahua+NAS#p277738

Silly question, is the username and pwd where you have cam1 in the dahua screen shot the cameras username and pwd or the FTP username and pwd? and does the remote directory need to already exist on the share or is the camera gonna create it the first time it save info there?

Thanks Euly, I just realized that the damn router was allowing outside access?? I would have thought it was just on my local network(should have know with the public ip). removed the one picture I'm guessing you are editing that last post while I'm looking at it, seems like every time I refresh the page something new come up

Hmm, thanks for the response, still no luck. I've tried it with and without passwords. Has anyone ever set it up with a nas or ftp using the netgear ready share option?

although I have not tested it, the firmware should work fine, as far as I know the only difference in cameras is that the V2 had POE, all I have are V2's so I cant test it. Did your V1 come with POE?

I didn't see it listed (unless I missed it) but how can you pull off or backup the firmware currently loaded on the cameras? Thanks

Hey did you get my PM? Did yours come with that firmware on them or did you upgrade them yourself? I'm curious because mine came with 2.100.0000.6 R build 2012-05-07 and I upgraded two of them to 2.212.0000.0 R build 2013-12-06. The one that flashes and the one that the IR goes out when it gets really cold were both updated to the newer firmware listed above. I left the other cams at the original firmware and have not had any issues. Maybe just a coincidence? And they had been running on the newer firmware for quite some time without issue before I started having the IR problems.

Hey Salesguy, did you ever figure this out? I have one doing it now and I cant fix it. here is a link to that post viewtopic.php?f=19&t=39504&start=15

I have been checking it out and the entire IR bank just keeps flashing on and off all night? I guess I just need to switch it out with a working one to rule out the IR board itself. I'm beginning to think it may be the sensor that switches it on when it gets dark. Dahua was no help and referred me to my reseller.

I sent an email to Dahua support, maybe they will sell me some?

Well, I never did get a chance to switch out those boards, but now that's its getting warmer I'm going to take down all my Dahuas and clean them and check them out. I have another one in the back that the top half of the IR's are starting to flicker in and out. Anyone know where you could buy (if they sell them) the IR board intact for a quick replacement? On a side note reading back through this thread saddens me to think that I wont here from Carl (Buellwinkle) again. At least he lives on through this forum and his blog, RIP buddy.

He will be missed I really enjoyed his reviews and he always got back to you when you had a question. I hope that he went in peace. RIP my friend.