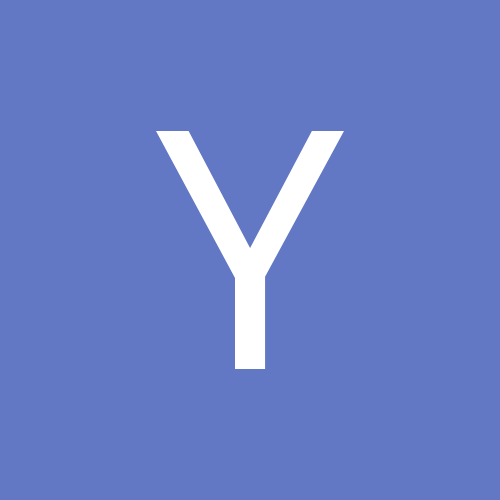 Content Count

336

Joined

Last visited
Everything posted by yakky
I'd like to have a PTZ dome, however, I really don't want one hanging off the front of my house. I have a dormer window that has attic space behind it, I was thinking of mounting the camera behind the window to not be so obvious. I've tried mounting cameras behind glass before and had some issues with reflections of the camera. Any tips for a successful install?

Thanks for posting this up and the previous post on the export parameters, I finally was able to get my Annke 8 channel hybrid DVR working with NFS. I was testing with a small 8gig mount thinking I'd make something small and quick. It saw the mount but failed after 20%. It took a 17 gig file to work in my case, nothing smaller would work. I ended up using a loopback file system instead of a drive or quotas. Another thing I noticed was that after a few failed mounts, nothing works, you have to reboot as the NFS client on the DVR gets hung.

Not sure if this is old hat, but I finally stumbled upon the telnet password for most dahua ip cameras and DVRs. This was posted on Rory's board. root:vizxv Also, neat development: http://tanidvr.sourceforge.net/ I poked around the dvr, seems to be a lot of stuff based on LUA. Bulk of running processes are /var/Challenge buf interesting output: +++++++++++++++++++++++++++++++++ Name:base Version:1.1.0 Build date:Aug 15 2011 08:52:44 Desc:Release1.1.0 +++++++++++++++++++++++++++++++++ +++++++++++++++++++++++++++++++++ Name:multitask Version:1.1.0 Build date:May 9 2011 10:07:01 Desc:thread Release +++++++++++++++++++++++++++++++++ +++++++++++++++++++++++++++++++++ Name:buffer Version:1.1.0 Build date:May 10 2011 10:46:26 Desc:buffer Relese +++++++++++++++++++++++++++++++++ +++++++++++++++++++++++++++++++++ Name:guictrls Version:1.04.0 Build date:Feb 7 2012 18:15:14 Desc:GUI ctrls Relese +++++++++++++++++++++++++++++++++ +++++++++++++++++++++++++++++++++ Name:log Version:1.04.0 Build date:Dec 5 2011 15:07:51 Desc:build +++++++++++++++++++++++++++++++++ +++++++++++++++++++++++++++++++++ Name:user Version:1.03.0 Build date:Feb 3 2012 11:21:37 Desc:user release +++++++++++++++++++++++++++++++++ 17:16:38|trace CPacketManager::CPacketManager()>>>>>>>>> +++++++++++++++++++++++++++++++++ Name:storage Version:1.03.0 Build date:Dec 6 2011 09:56:49 Desc:DriverManager release +++++++++++++++++++++++++++++++++ 17:16:38|trace main(2, /var/Challenge buf) LIBDVR : Version : V6V5V4:000 LIBDVR : dvr3116E product init LIBDVR : 2012-9-19, today is weekday 3 time:17:16:38 LIBDVR : DvrShowInformation LIBDVR : DvrGetHwidInformation(PRODUCT_TYPE) = 0 ********************************************************************** | SYSTEM INFORMATION | N52 libdvr version: 1.06.0 - Jan 19 2012 09:15:49 | DVR ID: 0U812 | product type: DVR | video channel: 16 | audio channel: 1 | alarm in: 0 | alarm out: 0 | frontboard type: 1U | video chip: TW2868 | DSP chip: HI3520 | analog audio mode: tw28XX control | audio surpport: Yes | matrix surpport: No | loop surpport: No | video tour surpport: Yes | real time: No | disk interface: SATA | LCD surpport: No | CDRW surpport: Yes | hardware version: 1 | audio interface: alt | disk num: 1 | net card: 0 | dsp num: 1 | playback num: 16 ********************************************************************** 17:16:38|trace CVersion::CVersion()>>>>>>>>> 17:16:38|trace Challenge Version Info:2.608.0000.1 BuildDate 2012-02-15 12:02:44 17:16:38|trace CChallenger::CChallenger()>>>>>>>>> 17:16:38|debug tracepoint: ../../Challenger.cpp, 256. *************************************************************************** * Lua Engine Version: Lua 5.0.2 * Supported Language: English * SupportedVideoStand: NTSC *************************************************************************** 17:16:38|trace path1:/mnt/mtd/Config/Config1 path2:/mnt/mtd/Config/Config2 17:16:38|trace libkeyboard.a::CFrontboardImp::CFrontboardImp()>>>> LIBDVR : Frontboard use ttyAS2 CTimerManager::CTimerManager()>>>>>>>>> 17:16:38|trace libkeyboard.a::FrontboardCreate :0 libkeyboard.a::CKeyboardDefault::CKeyboardDefault libkeyboard.a::CKeyboardDefault::getCommand keepalive libkeyboard.a::get def comm! CCommandLedBase::operate >>>>>>>>>>>>>has audio 1 , MatrixBoard has 0 loop Still looking for my holy grail of a CGI dir or JPEGs.... none found...

So I've been using the NAS mode to ftp video files on my dahua dvr using the "V-mode" which is video, works as expected. I get video files on my remote ftp sever in .dav format. Only uploaded on motion events. I've also tried the "P-mode" which appears to be picture mode. However using the same config as above, motion detect. I get all 16 channels no matter what is selected, one CIF image a second. It does not seem to honor any motion detection or anything else, just one image a second for every channel, working or not. Has anyone had any luck with this mode?

Completely wrong. You can get very good facial detail over analog. People have been getting put in jail for years with low def analog cameras.

You need to configure port forwarding on your router.

Holy crap are criminals getting stupid. Lets build something to look blurry because I can't find where mommy put my ski mask....

So true. The CNB 24VF series cameras have mediocre specs. But in real life, they are some of the best analog cameras.

IMO a fair offer is around $100, maybe $150 tops. I can get a HDE2412 brand new for $250

I think a lot of people say 100 meters is max recommended but there are people who have gone way over that. I see the Gem baluns recommended frequently as the best, I have some mid priced generics from Amazon and they seem to do ok.

This is a good wakeup call for all of us. I'm sure there are plenty of other exploits for the other branded DVRs that aren't well known yet....

Agree, when available, using the router's ddns clients a more reliable method, and most routers have more options available as far as services.

Your post indicated you weren't even sure of the mfg, indicating you hadn't looked anyway, at least to me.

Dennis, I don't think you've applied yourself. Using that model number, the first hit in google is the manufactures site which has manuals.

IMO, its very hard to beat the Qvis EYE-34N. ~$70 each, good IR, even at wide angles, great DSP and good night vision. Kvu7YJkrlAo You can see it compared to other various cameras on my channel.

I'm sure if you dropped your price down to $100, it'd be gone quick as it really is as good as it gets for non-ir analog cameras in the budget price range.

Great camera, but they can be had new for $132 shipped from an authorized dealer.

It will always increase bandwidth 1x per user, there is no way around that. I think what you could accomplish is the place the server somewhere where the aren't bandwidth restrictions is what you will need to do. [CCTV DVR]-----(RTSP Stream)------>[VLC Server]--------->Clients As long as you have your VLC server somewhere that isn't bandwidth restricted, you will be able to accomplish your goal.

You can do that with many systems. You will likely have to piecemeal several software packages or write your own. And yes, more viewers means more bandwidth used. Unless you are giving people a user account on your DVR and letting them use the DVRs web interface, this will not be a simple exercise.

They aren't real baluns, lots of people have been tricked by those, including me and several other forum members. They are balun like adapaters. A real balun has circuitry inside, those are just a terminal.

I believe the UTP thing is a misprint, regardless you should still get something on the screen. I'd recommend picking up a powersupply from amazon, they are $6 for the videosecu brand for CCTV cameras. It is possible you have a bad camera.

Don't discount Dahua video motion detection. I've been blown away by how well it works, it literally gets black cats at night but no lighting change induced falses during the day (I was plagued with those in ZoneMinder). Only thing I get now is wind triggers on bushes if it gets really windy.

You should have to open outbount ports unless you specifically block them. Shoot me a PM with your email, I can send you a good pdf on how to setup a dahua with gmail.

Its mostly trial by fire. The majority of new blood here starts with either a no-name ebay unit or one of the entry level brands like Night Owl, Zmodo, Qsee, etc. You've wisely pondered the store brand kits are a good value. IMO they are much like a value priced pre-built computer from the store. Not really good at anything, but just gets the job done. You are much better served if you roll your own system. Your budget will be the biggest issue along with how many cameras you need. Then your next for in the road is analog or digital. Analog is the value leader right now, but digital is getting much cheaper, though camera selection isn't nearly as good (in the budget realm). Let us know your budget and what features you really need. Also will you be installing this yourself?