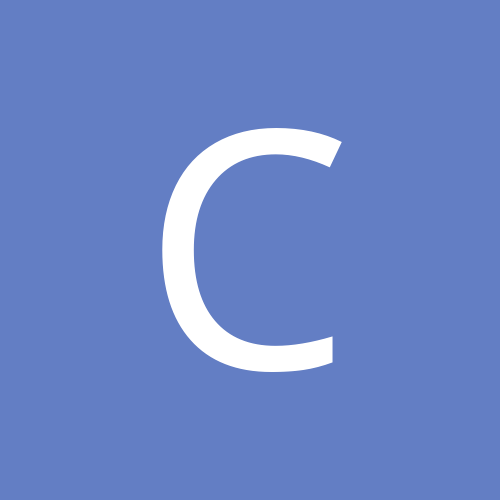 Content Count

29

Joined

Last visited
Community Reputation
0
Neutral
Recent Profile Visitors
The recent visitors block is disabled and is not being shown to other users.
found the issue i had a bad cat5 cable for some reason i had one factory made but never did use it and this time for some reason it pulled the nvr down and did not let it show any video. as soon as i unpluged it from the nvr and then used another one the video shoes up. go figure that one it gave me no sign of failure on the nvr at all. thanks for the help

ok i got some to show on the nvr now, i see them on the monitor. thanks for the help on that, but now to get them so i can pan them. i use the onvif app from the playstore and it sees a few of my cameras the same ones i see on the nvr. but in the app i can pan them but in the tinycam app i can't. so more work still needed. but it may be they will not pan going thru the nvr with tinycam but again thanks for the help.

maybe what i need to find out is what camera brand and model might be used in the tinycam app. i have the zmodo dvr unit's ip address in the app and i have to use a camera name and model then i use channel numbers to get all the zmodo cameras in the app. this nvr uses for default 34567 as the default media port and 80 for the default http port. i have enter them and it is not showing. so i need to see if anyone has a name and model for these nvr units? the name on the unit says digital video recorder model nvr6208 but it is not in the app selection. behind the power output is has planetsc but that is not there either? maybe someone know of a generic nvr make and i can pick models in the app? thanks

ok last week i had problems getting a camera connected to an nvr well i got it to go but now i need to find out if i want to see the camera on tinycam app what ip address would i use the camera or the nvr in the app? do i have to set up something in the netservice section i tried a bunch of settings and i'm seem to be missing something it is not connecting like the 2 dvrs i have connected to the tinycam app. but this one's netservice is a bit different and not responding like the others. i have these setting on this nvr to pick form 0 means not set 1 means set pppoe 0 ntp 0 npt:60 ddns ddns set invalid so i entered the no-ip i have configured in the modem but i think i really do not need this upnp 0 rtsp 1:554 cloud connected mobile reported enable gb 28181 enabled i think this is not an nvr issue but an the tinycam issue being i can see this camera on bothe the nvr and the network thru the onvif app i would rather use tinycam app if possible to save apps on my phone and tablet, i can't run the onvif app on my tablet it say no room, anyone have an idea. i did see that i have no ptz control on the nvr but if i can get it on tinycam i may get those. thanks

you know i was a machine repairman for 45 years and i get the same thing i don't know nothing but i get all the operators asking me to fix there machines. i asked a bunch of us cctv companies before i did this and they all said my cameras will work if they are lan capable. sorry to disappoint your wisdom but before i got this i asked because i was trying to get them to connect to a dvr and some here told me i could get my ip cams to connect to my dvr. well that did not work. and some of them gave me the nvr links to see how to connect them up so i got all that information before i ordered one. i just do not know what to tell you. i can only go by what others have told me. in fact the unit i got one company told me it would work so i sent them a link to it. after the sa it they said that type is what i want they tried to get me to by one form them after they told me it would work. these were usa companies. i tld the sales people what cameras i had and sent them the lins to the actual sales when i got them and they said my cameras are compatible so if the china people tell lies then i guess the usa companies do also and they told me they would work before o got a nvr and now it fails. like i said a long time ago it may have an issue and now work at all. but like me you want to go down all the roads for testing before you start tearing it apart. good troubleshooting steps i do that as well but there comes a point when it is just not going to go. and that is that. now again i just watched a bunch of you tubes on adding cameras to a nvr and one video had the same camera i have and it connect to that nvr, not the same nvr that i have but the same camera. what can i tell you. again thanks for all the help but we have to just say we tried. thanks for the time and the help

tom thanks for the help but because your not here in front of it you do not know the complete story. my cameras are all onvif compliant sorry to disappoint you. they run on onvif apps and no other apps but tinycam and icam and they use onvif in there app i went thru that with both developers. for some reason when i'm in the auto setup the network tab is not lit up. even though in the main ip setup page it has a test the network and it says it is connected. i have again just watched 30 youtube videos on how to set up the nvr and for the most part i'm doing it correctly. i have a feeling this unit needs some type of firmware update. the cd that came with it had about 10 firmware links in it but because i do not yet know just how to get into the nvr with pm pc i will not try to send any firmware update to it. i asked the seller if she knows i have got things from this seller before and she never sent me junk. and some items i got form her needed some type of help and she helps. so after the chieneese holiday s over she will get back to me and we will figure out why the nvr is not responding. it may be very well what your saying and what i did will work but the unit has an issue. it will not even let me change the dns server. or the password. so it might have some kind of lock installed on it. but 3 of the youtube setup people have replied to me and said what i'm doing should work with the cameras i have. the all told me if the camera has a lan port and i can get it on the network and not wifi they will work on any nvr. thanks

tom i just do not know how to make you understand. i have a zmodo dvr all analog cameras i see them on my app and my pc i have that test dvr with the same kind of cams i took off the zmodo dvr bnc connectors and that is a dvr type dvr connection both dvrs have the same connections. this nvr we are talking has one cat5 plug in. that is a lan connection. i is plugged into my network. and when i did an automatic setup it connected to the test dvr. i do not know how else to explain it to you at this moment i have a ip cam that is either wifi or lan connection. if you want it to connect to your network you plug it into the lan port and then search for it. that camera i reset so it is no now connected to the wifi. when i plug i into my network i see it on that camera app and i can set up tinycam and ip cam apps to see it. i did what you told me the pictures show that. i took that damn camera and plugged it into this nvr and i get nothing. i have reset this nvr unit now about 100 times and then went back thru the setups both with the wizard and manually. i sent pictures to prove it. Listen I think we have come to a end .....if you believe analog camera are viewed over your lan network..... your wrong ...... the one camera showing from your dvr on the nvr is seeing the dvr as a camera ......but it will only ever allow you to see 1 camera that camera i sent a picture of is a ip digital camera and it was on my network i was showing you that my network will show it. also i sent a picture of the camera on the nvr and it was not showing so the nvr is not working with it. i can't connect the analog cameras to this wrong connections. you are not understanding what i even send you in pictures. the ip cameras you are using are not onvif comparable .....in fact they work more as a webcam than a ip camera. 2 of them are onvif period and i see them on the apps they are digital onvif cameras the one in the picture say in the book it came with onvif You would be better buying a 4mp ip camera and just use the nvr .....then you will see how easy it is so the onvif i have connected to it as you require and i sent proof to you your now telling me is not a onvif camera and it says it is on the box. i agree that you have come to the end of you knowledge on this so let agree to disagree. you call it what you want even though in all your suggestions that i did are not working and all you have left is to say the very thing i do that is not working is not correct. and i sent proof. so please just stop trying to help me someone else will chime in with different ideas. thanks for the help let's just end this one here. thanks

tom here are pictures of this connected to another network switch the nvr is connected to the switch the ip cam is connected to the same switch and the switch is connected to the network lan switch. si this is a switch to a switch and the phone can see the ip cam this way on my network but not on the nvr. so what else this completes all the testing you asked me to do so the nvr still says offline even though i can see the ip cam on my phone thru the network not wifi the wfi is turned off on this ip cam all the nvr settings are still the same. this unit is suppose to see digital ip cameras and also analog cam that are on my network. like i said i watched a bunch of youtubes and they all showed how to set these up about the same way. again thanks

tom her are pictures to prove i did what your saying 1st picture nvr connected automatically to the test dvr analog cameras on this dvr 2nd is one ip cam just like the ones i'm trying to connect up to this nvr 3rd is the same ip cam connected to my network lan with a picture on the phone 4th show i'm trying now to connect it by searching for it on my network 5th is showing my holding it at the tv so you get the idea i'm not just flapping my gums 6th is the ip address of this ip cam 7th is after i manually entered the information into the nvr ip channel page and applied and also a search and nothing show in the upper window like you see in the 1st picture. and the ip cam is plugged onto the nvr and it still will not find it. on this unit in the netserver section i have enabled upnp and it does not allow me to assign any http tcp or mobile ports like the other dvr's i have will allow. i have ftp enabled at port 20 and entered the same information as my dns server and the test failed but i do not have that enable on the other units i tired it both way in all the netserve page setting even ran the test in anonymous mode. rtsp at 554 probing dns to the cloud mobile reported. so what else is there. the i can see all my cameras on my apps and on my pc. so i do not know what i'm not doing that your telling me to do!! what am i missing still? i can fill this with hundreds of pictures but what will it do ihave spent hours running every possible setting on this and i did it also next the the test dvr page for page. want me to send it to you to set up? being you don't think i'm doing it correctly! i mean side by side setting with a known working unit? maybe it needs a reflash? i have no clue. this is why i got a cheaper unit just for this kind of issues. thanks

tom i have some experience setting these up this one is not setting up it makes no difference how many time you try to tell me what you think i'm doing wrong. i said in the other post what i did, because your hung up on the monitor and me sending it back. get past that will you. it will not even see the zmodo dvr i have running now. also on the app it will not see any cameras that the listing said it was supposed to see. it does get on the internet or at least is says it does. it finds by itself one dvr that i use for testing cameras with. i got that dvr setup and the zmodo set up and 2 apps set up to see my cameras so i have some experience here. i ran this nvr in auto mode and it didn't find anything but the test dvr, i also ran it in manual mode and it didn't find anything i enter into it. and still in manual mode it found the test dvr. i turned off all the network settings and then tried them one at a time and nothing i tried every possible setting on the cameras and nothing. also it configures the ip cameras i try to connect to it. i can't have that period. so what your telling me is not good. if you checked out the link the the ebay item you would have seen that it is supposed to see any camera on my network. i asked the seller a number of questions before i got it and she said it would not only see my dvr the zmodo but would see all my ip cameras. i sent her all the camera information i have and she told me it would connect to them. so will you forget about the montiors and the return of this item. the nvr according to just about all the youtubes i watched is hooked up correctly. i even tried as you said to input into my modem the ip address and it didn't even find that but most of the youtube people do not say to input the modem ip address but to input the cameras. i can be at a restaurant and input my cameras into my phone and my phone will find them. also my apps sees them from away as well as at home. so i should be able to enter the camera ip address into the nvr settings and have it find my cameras. but when i do that this nvr changes the cameras settings so my app will not see them. so i change the settings in the app and i still can't see them so i restore the nvr and then reboot the cameras after i re enter the correct info and then i can see them again on the app. so what your telling me is not correct. this is not going to work. like i said in the beginning. now it may be that i have the ports way out in left field and that no nvr will ever be able to see them with anything. and before you tell me you can, the app designer could not find my cameras even when i gave him all the info he asked for. but i figure the nvr could still see them on my side of the internet. thanks.

no the picture was a different monitor. lets wind this up. this nvr is not going to work. i'm going to just forget it. so if you want to delete it or close it do whatever i'm not going to waste any more time on it. thanks for the time

ok lets start over with this is got side tracked. i have this unit an nvr. i got it to view and record my wifi ip cameras. no cameras connect to this unit directly. this unit only has the port for the network. my cameras are on the network i can type in the camera ip address and port and it comes up on pm pc. i'm again at the restored main page on this nvr at the setup screen. i have 8 ip address slots on this one. when i go to the network test it says it is connected to the network i go to the main menu and the network page i get the ip address and all that stuff for the network. the media port is 34567 the http port is 80 i have forwarded these on my modem. when i test the network it says gateway ok. test network ok. test dns ok. network tested successfully. this is as far as i know how to go. in system config i go to general and i have machine name as local host and dvr no. 0 language video storage logout and startup wizard i check that for now. no rs232 no rs485. channel status unknown for all 8 now.digital channels only lit up for channel 1 and not enabled now ipc failed to get configuration. no alarm set. tha is about all for this it has more but for now they are not going to help me set up and camera. they are just extra types of settings once i have cameras installed. so this is suppose to find cameras on my network. i turned off the dvr that had 3 cams on it because it found that one by itself and i need to be able to get past that. it is not going to be in the system i only want 5 ip hard wired wifi cameras on this unit. those cameras are on my network and like i said i can type in there ip address and ports and i see them even form a restaurant. so it seems if i'm on my side of my network i should be able to type in that ip address on this nvr and find a camera. thanks if you want screen shots of different page on the nvr let me know.

ok this is the manual page on this nvr. it will not see my network the xxx.xxx.xxx.42 is my modem and it will not go past it. so i have no idea how to get into my modem. both dvrs do it and my ip cameras do it. i do not have to enter my modem ip to get to them. and i'm on my side of my modem so i do not have to see them for the mall. i tired different ip channels different port my modem has no port and i have no clue how to enable the connection. when i go ito the network page and do a test is says i'm connect to my network.

the monitor said it was a frequency problem so i changed monitors and i can see the nvr we will not worry about sending it back here lets see if i can get 1 zmodo camera to work and then i will get the rest and let's see if i can get 1 ip camera to work then i can get the rest? the nvr came with instruction to get ip cameras to work just like mine but those instruction do not work as it is for an app and the app sees a dvr that has 3 cameras on it for testing. i'm trying to set up an nvr and yes it is seeing the 3 dvr cameras on my network but only 1 dvr it will not see the other dvr and all those cameras are the same cameras. but what i want it to do is see the ip wifi cameras that i have and they are hard wired to my network. and it was advertised to be able to see them and i asked the seller and she said it will but no it is not. i did manual and automatic and all it finds is the dvr with 3 cameras on it and show 1 cam.